Luxury French Baby Furniture
Luxury French style baby furniture with special details and finishes to welcome home the newborn. Go to: Nursery/Kid's Bedroom, Playtime, White and Gender Neutral Nurseries
Chase Twin Youth Bed
Kids Reese Bistro Play Table
Kids Reese Bistro Chairs, Set of 2
Tamsin Kids Chair
A showcase of the Dominique collection is this country twin bed that conveys a bucolic appeal. Imposing headboard is graced with curved moldings and construction. Low-profile footboard is constructed with simple curved molding and stylishly flared posts. Bed is finished in charming white that denotes a contemporary look.
Whether your child uses it for art projects, tea parties, snack time or homework, this kids play table will enhance their sense of wonder no matter what activity they use it for
Designed with a bit of whimsy and a whole lot of charm, this chair makes a sweet addition to a kid's playroom.
| | | |
| --- | --- | --- |
| | | |
| Pehr Pom Pom Cotton Canvas Storage Bin, Multi | Pehr Pom Pom Cotton Canvas Storage Pint, Multi | Pehr Pom Pom Cotton Canvas Storage Pint, Natural |
| Hand-sewn pom poms add a playful touch to sturdy cotton canvas for these ingeniously sized storage containers from Pehr. Dimensions: 12"H x 13"W. Hand-sewn pom pom decoration. Useful catch-all for tidying toys, crafts and the like. 100% heavyweight cotton canvas | Hand-sewn pom poms add a playful touch to sturdy cotton canvas for these ingeniously sized storage containers from Pehr. Dimensions: 9"H x 10"W. Hand-sewn pom pom decoration. Handy storage container for diapers, creams and other small stuff. 100% heavyweight cotton canvas | Hand-sewn pom poms add a playful touch to sturdy cotton canvas for these ingeniously sized storage containers from Pehr. Dimensions: 9"H x 10"W. Hand-sewn pom pom decoration. Handy storage container for diapers, creams and other small stuff. 100% heavyweight cotton canvas |
| | | |
| --- | --- | --- |
| | | |
| Pehr Pom Pom Cotton Canvas Storage Bin, Natural | Pehr Pom Pom Cotton Canvas Storage Pint, Blush | Pehr Pom Pom Cotton Canvas Storage Bin, Blush |
| Hand-sewn pom poms add a playful touch to sturdy cotton canvas for these ingeniously sized storage containers from Pehr. Dimensions: 12"H x 13"W. Hand-sewn pom pom decoration. Useful catch-all for tidying toys, crafts and the like. 100% heavyweight cotton canvas | Hand-sewn pom poms add a playful touch to sturdy cotton canvas for these ingeniously sized storage containers from Pehr. Dimensions: 9"H x 10"W. Hand-sewn pom pom decoration. Handy storage container for diapers, creams and other small stuff. 100% heavyweight cotton canvas | Hand-sewn pom poms add a playful touch to sturdy cotton canvas for these ingeniously sized storage containers from Pehr. Dimensions: 12"H x 13"W. Hand-sewn pom pom decoration. Useful catch-all for tidying toys, crafts and the like. 100% heavyweight cotton canvas |
| | | |
| --- | --- | --- |
| | | |
| Kids Vivienne 4-in-1 Convertible Crib | Kids Hastings 4-in-1 Convertible Crib | Kids Emeline 4 Drawer Dresser with Changing Top |
| Converts from crib to toddler bed, daybed and full size bed (Daybed Rail included, Toddler Guardrail and full size bed rails sold separately) Adjustable height mattress support with 3 convenient positions to grow with your baby | Converts from crib to toddler bed, daybed and full size bed (Daybed Rail included, Toddler Guardrail and full size bed rails sold separately). Adjustable height mattress support with 3 convenient positions to grow with your baby | Designed with bead and crown molding, as well as safety stops that prevent drawers from falling out, this 4 Drawer Dresser with Changing Top is an heirloom-quality piece that will stay with your child from birth till their teens |
| | | |
| --- | --- | --- |
| | | |
| Kids Elodie 4-in-1 Convertible Crib, Antique White | Stella 4 Drawer Dresser with Changing Top | Kids Elodie 4-in-1 Convertible Crib, Weathered Chestnut |
| Converts from crib to toddler bed, daybed and full size bed (Daybed Rail included, Toddler Guardrail and full size bed rails sold separately). Adjustable height mattress support with 3 convenient positions to grow with your baby | Impressive and substantial, this 4 Drawer Dresser with Changing Top instantly brings warmth to any space. Dimensions: 20.25"L x 38"W x 41"H | Converts from crib to toddler bed, daybed and full size bed (Daybed Rail included, Toddler Guardrail and full size bed rails sold separately). Adjustable height mattress support with 3 convenient positions to grow with your baby |
| | |
| --- | --- |
| | |
| Kids Hastings 4-in-1 Convertible Crib | Sorelle Furniture Paxton 4-in-1 Crib |
| Converts from crib to toddler bed, daybed and full size bed (Daybed Rail included, Toddler Guardrail and full size bed rails sold separately). Adjustable height mattress support with 3 convenient positions to grow with your baby | Made with clean lines and craftsmanship, the Paxton Collection features several pieces including a convertible crib, double dresser, and changing topper in 2 finishes, White and Heritage Gray all sold separately. The crib can be converted to a toddler bed and a full size bed. |
| | |
| --- | --- |
| | |
| Piper Upholstered Metal Crib | Sorelle Furniture Berkley Crib Changer |
| Inspired by classic wrought-iron furniture, the little seeds piper upholstered metal crib is the perfect addition to your child's nursery. The arched metal frame and upholstered side panels adds a decorative touch for an updated look. | All-in-one crib with changer and storage drawers. The changer only detaches from the crib once you are ready to convert to a full size bed. Features sturdy construction in a durable painted finish. This crib converts into a toddler bed, day bed and a full size bed. |
| | | |
| --- | --- | --- |
| | | |
| Detective Toy Set | Geo Stacking Rock Toys | Play Center |
| For your tiny super sleuth, this detective set includes everything needed for solving the play-pretend mission of finding a missing cat. Recommended for ages three years and up | This set of wooden stacking rocks encourages fine motor skills and interactive play with your little one. Recommended for ages three years and up | Whether it's performing a puppet show or hosting a play-pretend bake sale, this versatile set encourages imaginative performance and interactive fun with your little one. |
| | | |
| --- | --- | --- |
| | | |
| Wooden Telephone Toy | My Tree Puzzle | Vroom Vroom Puzzle |
| Perfect for imaginative play, this charmingly designed toy phone is sure to surprise and delight your little one this holiday season. | A jigsaw puzzle is a great gift for your little one under the tree. Recommended for ages 5 to 8 years old | Recommended for ages 5 to 8 years old 50 pieces |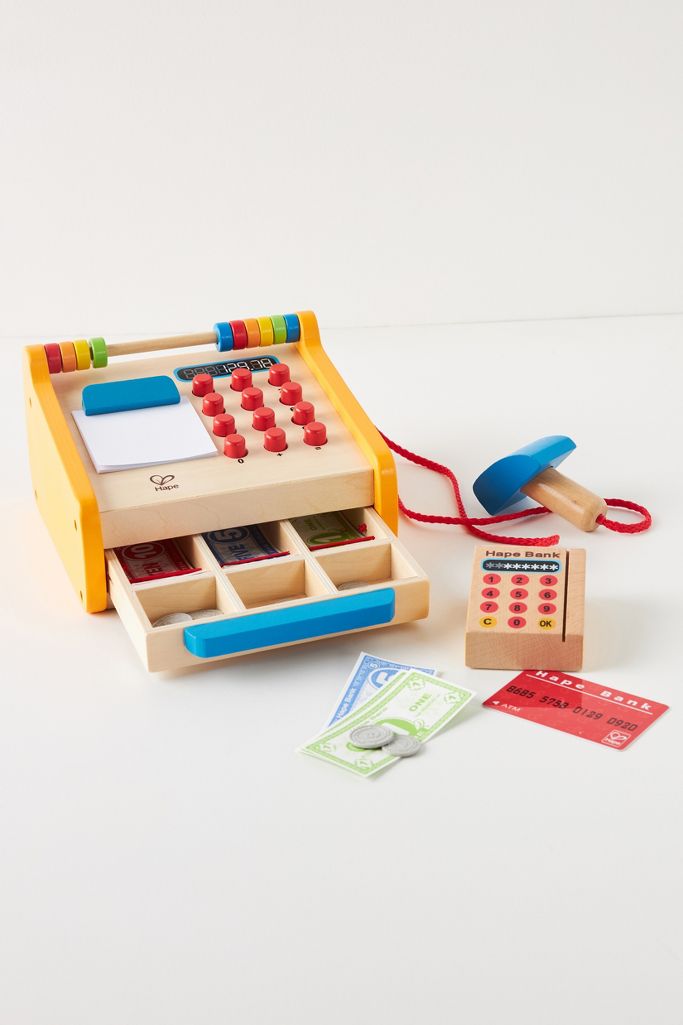 Checkout Register Toy Set
Perfect for imaginative play, this wooden-crafted register allows your little one to play-pretend ringing up groceries, toys, and more. Recommended for ages 3 years and up
| | | |
| --- | --- | --- |
| | | |
| XOXO Wall Art | Edinburgh Nursery Glider | Merriton Armoire |
| Drawing inspiration from her study of textile design, artist Kate Roebuck explores the timeless themes of pattern, color and texture in each of her bold compositions. Seeking to evoke a dialogue between herself, her subjects, and the viewer, she expresses a well-developed balance of precision and play. | The Edinburgh Nursery Glider by Bloomingdale's helps you carve out a comfortable, serene space to feed, read or bond with your baby. At home in a variety of decors, this glider exudes timeless style with its rolled arms and back | Gleaming brass accents affixed to stately wood form a harmonious pairing on this streamlined, chamfered-edge silhouette. |
Go to:
Add French-Luxury to your favorites