Blankets, Throws and Quilts with French Style Luxury
Blankets and quilts with French style to create a private retreat. Go directly to traditionally beautiful: J Queen New York, Sunday Citizen, Blankets, Throws, Quilts and Coverlets
French Style Quilts, Blankets and Throws
Coeur De Maison Coverlet
Coeur De Maison Sham
Between the Lines Throw
Rosemarie Blanket
Translating to 'heart of the home', this is a design you'll treasure for years to come. Each quilt is smocked into a geometric motif for soft, textural interest in a weight perfectly suited to the season. And in a choice of fresh neutrals, it's an elegant add-on layer year-round.
One on a bed, another on a chair…this throw adds an instant pop of color and a cozy touch of comfort just about anywhere it rests. Contrast threads create texture and dimension, made even more fun with fringe on two ends.
Artfully woven in the world's mecca for fine textiles, our jacquard floral blanket features a field of tonal flowers in two beautiful colorways, making it a lovely and soothing layering piece for any bed. With self-fringe at bottom edge.
| | | |
| --- | --- | --- |
| | | |
| Blissful Bamboo Blanket | Menagerie Printed Cotton Throw | Deauville Striped Blanket |
| Silky viscose made from bamboo creates a all-season blanket with amazing softness, moisture-wicking properties, and the breathable ability to adapt to your body temperature. Great layering piece for a cozy bed and year-round comfort. | This throw's meticulous attention to pattern was inspired by an ancient textile technique used by the designers of silk scarves and shawls in Italy's Lake Como region. An enchanted print on soft ivory cotton evokes a secret garden full of colorful flowers and magical creatures. Fringed on two sides. | A fresh take on a summer classic, Deauville's seersucker stripes are translated into a beautiful cotton blanket. Wonderfully textural and yarn-dyed in your choice of three beachy hues, this lightweight layer is a perfect way to infuse a pop of color to an all-white bed. |
| | | |
| --- | --- | --- |
| | | |
| Caline Faux Fur Throw | Wearable Throw | Pompon Throw |
| Dare we say "decadent"? The tipped faux fur pile of this snuggly new must-have is smocked for sumptuous texture and unbelievable softness. No wonder our faux fur throws are in so many homes. Generously sized, it's a favorite wherever cuddling-up occurs. | Pull up the hood and cuddle into this super-soft, wearable throw. The cozy Sherpa fabric reverses to a soft, faux shearling that also trims the topside. With a single button in front for wrapping up or stepping out. | Yes, the pom-pom tassels are fun, but even those reflect the inviting warmth and style of this overall design. Luxurious, warm and whimsical, it's a delightful addition to wherever comfort is key. |
Printed Blissful Bamboo Quilt
Blissful Bamboo Quilted Bed Sham
Blissful Bamboo Quilt
Solana Throw
Relax and drift off under a quilt of subtle florals printed on soft, smooth viscose made from bamboo. Bamboo enhances your sleep because it naturally regulates your body temperature and wicks away moisture to keep you comfortable all night long. This quilt has neat, mitered corners and reverses to a smaller print.
Great sleep –it's what we dream about. So we created this quilt from silky viscose bamboo to give you a full night of moisture-wicking, amazingly soft, completely breathable happiness. Finished with a luxe quilting detail, mitered corners, and rich binding at the edges.
Wonderfully colorful and textural, this versatile throw is a unique, super-soft blend of yarns. Fashioned in Southwestern textile-craft style and featuring a rich earthtone palette enlivened by accents of terracotta, each throw is a one-of-a-kind creation.
| | | |
| --- | --- | --- |
| | | |
| Portofino Smocked Comforter | Sao Paolo Coverlet | Adagio Comforter, Shams |
| Relax into a pearl-blue cloud of comfort. This plush, lofty look features the softest cotton voile scattered with smocked detailing that elegantly echoes the allover medallion design. Ruffle trim gently adds the final inviting touch. | Inspired by the artful and time-honored textile traditions of Portugal, this soft jacquard coverlet is a layering piece you'll love for years. Serene solid color choices make it endlessly versatile while the woven textural design and tonal eyelet lace attract the eye. Pair with our Sao Paolo Sham (6BE03) for a coordinated touch. | An essential layer of glamour for the bed, our Adagio collection is all about luxury. Start with the fabric: sublime to the touch, it's washed down for a rich, lustrous sheen and an amazing hand that's softer than silk. Dotted with embroidered stitches for a dimensional puckered effect, it's masterfully finished on all sides with a tightly tufted border. Exceptionally light and lofty, this comforter has a wonderful, season-spanning versatility that marries beautifully with many other bedding collections. The quilted sham (sold separately) has a French fold and closes with cotton side ties. Polyester with polyester fiber fill; reverses to a cotton backing. |
| | | |
| --- | --- | --- |
| | | |
| Satinique Coverlet Collection | Zilara Coverlet Collection | Zilara Coverlet Collection |
| Give any room a perfectly polished look and feel with the refined quilting and shimmering hues of this luxe Satinique bedding collection from J Queen New York. | Mix and match to create a unique bedroom style with the Zilara coverlet set from J Queen New York, featuring a variety of coverlets, pillows and shams. | Mix and match to create a unique bedroom style with the Zilara coverlet set from J Queen New York, featuring a variety of coverlets, pillows and shams. |
Bridget Comforter Sets
Bridget Quilt Sets
Roxanne Comforter Sets
Roxanne Quilt Sets
Luna Comforter Sets
Luna Quilt, Full/Queen
Luna Quilt, King/California King
The Bridget comforter set offers botanical beauty to your sleep space with a classic watercolor floral design The comforter features a wildflower print with blossoming multi-color florals, and is generously oversized and overfilled.
The ROXANNE Comforter Set offers a charming vintage look to your sleep space with a classic coastal stripe design. The comforter features a sunset beach inspired color mix of coral, ocean blue, and sunny hues, and is generously oversized and overfilled.
The LUNA Comforter Set offers an artistic approach to your sleep space with textured stripes in a soft pastel color palette. The comforter features a tranquil mix of lavender, teal and grey hues and is generously oversized and overfilled.
Luxembourg Bedding Collection
Yves Delorme Cocon Velvet Counterpane Quilt
Cocon Decorative Pillow, 18" x 18"
Yves Delorme Maillon Textured Coverlet
Add some sleek luxury to your bedroom with this glamorous Luxembourg - Quilt. Constructed with a soft elegant fabric that features a fine stria stripe in two tones of silver with a detailed diamond quilt stitching to create a balance of symmetry and intricate detail. Coordinate shams and pillows are available separately.
Dimensions: 59"L x 79"W. Front: 100% silk/viscose velvet; reverse: 100% cotton; border: 100% silk; fill: 100% polyester
Industry experts in the art of woven design, Yves Delorme, has created these beautifully maillon textured coverlets in a range of hues. An elegant addition to any set or the perfect throw.
| | | |
| --- | --- | --- |
| | | |
| Yves Delorme Triomphe Collection | Lyssa Collection | Jennifer Adams Taupe Diamond Queen Blanket/Coverlet |
| Soft as silk, the Triomphe bedding collection from Yves Delorme is an expression of classic luxury. Crafted from fine Egyptian combed cotton with a luxurious sateen finish, the sheets, duvet cover and coverlet feature a raised double-saddle stitch border for an interesting accent | Isabella Collection by Kathy Fielder Lyssa Channel Coverlet Set. Polyester. | Layered as a coverlet or used as your comforter, our Lux diamond is perfect all year-round. Its clean, diamond-stitched pattern adds modern texture to your bed and comfort to your life. Breathable for allergy ease excellent for sensitive skin medium weight washable wrinkle-resistant. |
| | | |
| --- | --- | --- |
| | | |
| The Global Trunk Traditional Momo Blanket | Clea Bed Blanket | Jaslyn Woven Damask Bed Blanket |
| These organic, pigment-dyed blankets are made from a blend of cotton and the wool of locally raised sheep in the Western highlands in Guatemala. Each blanket is hand loomed by K'iche' Mayan artisans on traditional wood looms. Due to their handmade nature, sizes and patterns may have slight variations. | With a dreamy garment-dyed finish, this bed blanket refreshes any bedspread with its soothing blend of colors. | First crafted in China over one thousand years ago, damask has long been considered a symbol of luxury and indulgence. Defined by its warp and weft yarns that form intricate patterns with varying relief, this woven blanket invites timeless elegance into a guest or main bedroom. |
| | | |
| --- | --- | --- |
| | | |
| Lili Alessandra Chevron Blanket, Pillows | Yves Delorme Duchess Blanket | Madison Park Liquid Cotton Blanket |
| Featuring the soft touch of cotton, this bedding collection showcases a stylish chevron pattern. | Luxuriate in the plush warmth of this Duchess Blanket by Yves Delorme, inspired by hotel design and finished with bound edges and mitered corners. | Cozy up in one of the softest cotton blankets on the market. We take the highest quality cotton and spin it into a very smooth and soft material that we call Liquid Cotton. This blanket's cotton material virtually eliminates pilling and snagging to give you a lasting blanket that you will not have to replace year after year. Our Liquid Cotton blanket has reduced shrinkage compared to other cotton blankets. Cotton naturally wicks away moisture and is breathable which helps regulate your temperature at night, giving you year round comfort. |
For home, body and soul, Sunday Citizen creates comfort with one soft piece at a time. Sunday Citizen makes ready-to-go bedding that feels as good as it looks. Snuggly, welcoming, cozy-chic and totally washable. Meet radical softness.
| | | |
| --- | --- | --- |
| | | |
| Sunday Citizen Snug Comforter | Sunday Citizen Crystal 15 lb. Weighted Blanket | Sunday Citizen Casablanca Throw |
| Super soft Sunday Citizen snug fabric on one side and lightweight quilted microfiber on the other. This down alternative comforter is ready-to-sleep bedding that looks and feels like a cloud. And don't worry if you drool; it has been tested to withstand machine washing and drying. | Weighted blankets put gentle pressure on your body, which researchers say helps lower anxiety, provide better sleep, and alleviate some chronic pain. This one is encased in radically soft Sunday Citizen snug fabric and filled with thousands of Clear Quartz, Rose Quartz, and Amethyst crystals that harness natural healing energy for the best sleep ever. | A lovely throw in an off-white and pretty color pattern that looks and feels like it belongs in a castle somewhere. It's made with two layers of Sunday Citizen's snug fabric, which means that it's soft-as-can-be and also a bit weighty and extra snuggly. |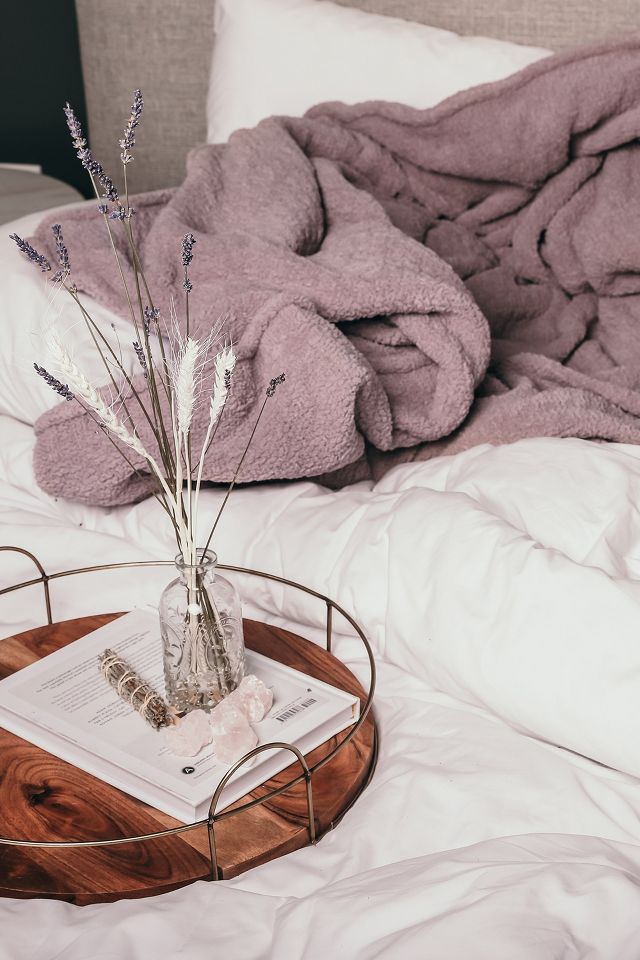 Sunday Citizen Crystal 20 lb. Weighted Blanket
Weighted blankets put gentle pressure on your body, which researchers say helps lower anxiety, provide better sleep, and alleviate some chronic pain. This one is encased in radically soft Sunday Citizen snug fabric and filled with thousands of Clear Quartz, Rose Quartz, and Amethyst crystals that harness natural healing energy for the best sleep ever
| | | |
| --- | --- | --- |
| | | |
| Manta Alpaca Throw Blanket | Barefoot Dreams In The Wild Throw | Barefoot Dreams CozyChic Palm Leaf Blanket |
| Made from Peruvian alpaca wool, the beautifully woven Manta Throw is a cozy addition to any living space. Global Views is proud to support Peru and the development of a sustainable industry that treats the Alpaca with care and dignity. Handmade alpaca throw blanket. Approx. 70"L x 50"W. | 54"L x 72"W. 100% polyester microfiber. Machine wash | A striking palm leaf pattern, inspired by retro glamor, gives a nod to Old Hollywood. Dimensions: 45" x 60" |
| | | |
| --- | --- | --- |
| | | |
| Yves Delorme Abri Linen Throw | Fringed Bay Throw Blanket | All Roads Bloomfield Throw Blanket |
| Woven with an abstract leaf pattern, fringed ends. Dimensions: 59"L x 71"W. Made in Italy | Oversized stripes and fringe make this cotton-wool throw both au courant and classic at once. | Born of appreciation for cultural art and natural aesthetics, All Roads Design is renowned for their ability to pair handmade with high-style. Founders Robert Dougherty and Janelle Pietrzak combine their backgrounds in carpentry, welding and textile sourcing to create custom furnishings and one-of-a-kind decor that never fails to catch the eye. Handcrafted cotton, acrylic, silk |


| | | |
| --- | --- | --- |
| | | |
| Diamond Weave Throw Blanket | Sydney Herringbone Stripe Throw Blanket | Aden Tufted Throw Blanket, Cream |
| Featuring a timeless diamond weave, this throw cozies up any seat in your home. | This versatile, super-soft throw features panels of cream and color, for a charming accent that brings comfort and charm, wherever it's placed. Lands Downunder crafts artisan textiles with the belief that the art of living well is cause for daily celebration. Over a span of 15 years, they've become known for soft accents - woven in Italy and New Zealand - that suit every decorating style and living space | All-out bohemian texture brings a dynamic look to your space when you drape this woven throw blanket over a bed, sofa or chair. Featuring shag tufting in a geometric orientation. Finished with tassel trim at corners. |
| | | |
| --- | --- | --- |
| | | |
| OscarOliver Luca Throw | All Roads Yucca Throw Blanket | Andi Throw Blanket |
| Cozy up in style with the Luca throw from Oscar|Oliver, featuring a soft knit design that will add textured comfort to your bedroom or sofa throughout the year. Dimensions: 50" x 60" | Cotton, viscose, acrylic. Embroidery, fringe, and pom pom embellishments | Indulge in a textural accent with this woven throw blanket featuring bobbles and more in a geometric arrangement for a boho-inspired feel. |
| | | |
| --- | --- | --- |
| | | |
| Stargazer Plush Throw Blanket | Cozy Up, Buttercup Pillow | Aleksi Faux Fur Throw Blanket |
| So fluffy, this fleece throw blanket is as soft as a cloud. Featuring ribbed detailing at edges and rope harness for easy toting to and from slumber parties. | Prepare for the colder months ahead with this playful pillow. | Treat yourself or a loved one to the luxurious feel of faux fur with this oh-so-soft throw blanket. Its short pile fur tips are dipped in a different color, lending it a sense visual depth and dimension. |
Go to:
Add French-Luxury to your favorites