French Candles, Votives and Candle Holders
French candles, votives and candle holders for every mood and room in your home. From table to bedroom, create the mood: romantic, calming, invigorating. They are a signature of rituals. They turn meals into special occasions, a bath into a spa. They softly light and scent a room. Light candles tonight. Notice the difference. Go to: Taper Holders, Pillar Candle Holders and Hurricanes, Votives and Tea Light Holders, Lalique and Baccarat Crystal Candle Holders, Candle Sconces
| | | |
| --- | --- | --- |
| | | |
| Pompidou Acrylic Candleholder | Hammered Metal Taper Candle Holder | Delaney Candle Holder |
| Our Pompidou Candleholders pair '70s-inspired patterns with daring dimension for added oomph. Featuring solid acrylic pipes fused together and accented with polished nickel. Made of solid acrylic. | Boasting a hammered metal finish, this taper holder lends a sophisticated touch to your tablescape. | Add intention to your everyday routine or moments of self-care with this beautiful candle holder that features a sculptural glass form. Although an icon of dinner parties, tapers and pillar candles can bring mindfulness to your daily meditations, yoga practice, or evening bubble baths. |
| | | |
| --- | --- | --- |
| | | |
| Victoria Taper Candle Holder | Anna Spiro Striped Taper Candles, Set of 2 | Danni Taper Candle Holder |
| This year, add intention to your everyday routine with a beautiful taper candle holder crafted from powder-coated steel. Although an icon of dinner parties and wreaths, tapers can bring an element of mindfulness to your daily meditations, yoga practice, or evening bubble baths. | Designed by Anna Spiro in collaboration with Anthropologie, this colorful, striped pair of tapers brightens up any tablescape. | Illuminate a tablescape or a dimly lit corner with this sophisticated taper holder that also doubles as a sculptural accent. |
| | | |
| --- | --- | --- |
| | | |
| Helena Candelabra | Hotel Collection Candle Holders, Set of 3 | Blossom Taper Candle Holder |
| Bloom and glow with this candelabra made to hold a trio of taper candles within a flower-fab design. Metal construction features daisies and a wavy stem base accented with leaves dotted throughout. | Ooh-la-la. For all of our gold-tone fans, three striking candleholders from our Hotel Collection create the perfect focal point in any room. | Rustic taper candle holder with a minimalist profile, featuring a flared, turned pine wood outer lined with iron. |
| | | |
| --- | --- | --- |
| | | |
| Sarah Short Floral Taper Candle Set | Moon Phase Taper Candle Holder | Gleaming Taper Candle Wreath |
| Bring blooming ambiance to your space with this trio set of short taper candles made from wax with pretty dried flowers scattered within. Unscented. | Summon a lunar energy to your space with this iron taper candle holder featuring moon phases in a linear arrangement up the neck. Finished with a flat, round base. | Boasting a modern take on a classic candle wreath, this staggered candelabra lends a festive touch to your holiday tablescape. Large: Holds seven taper candles. Small: Holds four taper candles |
| | | |
| --- | --- | --- |
| | | |
| Counter Balanced Candleholders, Set of 2 | Flora Taper Candle Holder | Antiqued Brass Candlestick, Tall |
| Set of two sleek and modern, counterbalanced candleholders in polished brass and white marble. These unusual candleholders will each hold a taper candle (not included). Handcrafted set of two candleholders. Marble base with brass stand. | This season, add intention to your everyday routine with a beautiful taper candle holder featuring a floral finish. Although an icon of dinner parties and wreaths, tapers can bring an element of mindfulness to daily meditations, yoga practice, or evening bubble baths. | Made from antiqued brass, this classical candlestick provides a polished accent for the table. |
| | | |
| --- | --- | --- |
| | | |
| Shaped Taper Candle - Set Of 2 | Sarah Tall Floral Taper Candle Set | Farmhouse Pottery Pantry Candlestick |
| Duo set of natural beeswax taper candles featuring etched shaping to add an extra touch of texture to your glowing display. Unscented. | Bring blooming ambiance to your space with this trio set of taper candles made from wax with pretty dried flowers scattered within. | Equal parts classic and modern, these New England ash candlesticks set the scene for a sophisticated tabletop, no matter the occasion. |
| | | |
| --- | --- | --- |
| | | |
| Winston Candle Snuffer | Beehive Taper Candles, Set of 2 | Ontwerpduo Tallow Standing Taper Candle |
| This elegant snuffer neatly and safely extinguishes your candle with ease. Better yet? It's a perfect accompaniment when gifting someone a scented candle or a pair of tapers. | For more than 40 years, Northern Lights has been designing luxury candles and artisan-made accessories, filling homes around the world with light and beauty. Hand-poured in the USA from fine fragrances and essential oils, each candle is made with a blend of soy and other natural waxes and housed in a vessel crafted from responsibly sourced materials, for a high-quality, clean-burning, and sustainable fixture for your home. | A vintage look with modern construction, this freestanding taper candle by Ontwerpduo features its own little holder dish at base. Unscented with a single wick. |
| | | |
| --- | --- | --- |
| | | |
| Constance Botanical Taper Candles, Set of 2 | Constance Botanical Taper Candles, Set of 2 | Constance Botanical Taper Candles, Set of 2 |
| This New Year, add intention to your everyday routine with a beautiful pair of taper candles. Although an icon of dinner parties and advent wreaths, tapers can bring an element of mindfulness to your daily meditations, yoga practice, morning coffees, or evening bubble baths. Includes two taper candles and a dried botanical bundle | This New Year, add intention to your everyday routine with a beautiful pair of taper candles. Although an icon of dinner parties and advent wreaths, tapers can bring an element of mindfulness to your daily meditations, yoga practice, morning coffees, or evening bubble baths. Includes two taper candles and a dried botanical bundle | This New Year, add intention to your everyday routine with a beautiful pair of taper candles. Although an icon of dinner parties and advent wreaths, tapers can bring an element of mindfulness to your daily meditations, yoga practice, morning coffees, or evening bubble baths. Includes two taper candles and a dried botanical bundle |
| | | |
| --- | --- | --- |
| | | |
| Cut Glass Taper Candle Holder | Mini Sparkler Set | Number Sparkler |
| Like a vintage treasure, this taper candle holder is crafted from intricately cut glass with elaborate etching all over, culminating in a flared round base with scalloped detailing | Add a twinkling touch to your next party with this set of mini sparklers. | Perfect for celebrating any age or year, grab these number sparklers in any combination you need! Each sold individually, they'll add a twinkling touch to every party. |
| | | |
| --- | --- | --- |
| | | |
| Flameless Taper Candle Light | USB Candle Lighter | Nomatiq Electric Lighter |
| Set your space all aglow with this glimmering plastic light shaped like a candle to evoke the same twinkly scene, no messy wax to deal with. | This eco-friendly lighter is designed to last forever and is perfectly suited for candles, barbecues, stoves, fireplaces, or any gas ignition appliance. It utilizes flameless single ARC technology for a clean, butane-free ignition and is rechargable through a USB port, providing up to 130 lights per charge. | Ultra-sleek electric dual-arc lighter by Nomatiq, featuring a flip-open construction housed in polished metal casing. Recharges via USB for a fuss-free design. |
| | | |
| --- | --- | --- |
| | | |
| Lemieux et Cie Parette Pillar Candle Holder | Tall Brilliant Pillar Candle Holder | Short Brilliant Pillar Candle Holder |
| This handcrafted object is equal parts pillar candle holder and pedestal sculpture. Used on its own, or in a decorative object grouping, it lends sophistication to any tabletop. | These beautiful over scale lead crystal candleholders are as impressive as they are interesting. Designed to complement each other, the polished crystal blocks also stand alone as stunning sculptural statements. Each candleholder is wrapped in a black fabric bag and packed in a polished white gift box. Stacked crystal pillar candle holder. Holds up to a 4"Dia. Pillar Candle 6"Sq. x 18.3"T. | These beautiful over scale lead crystal candleholders are as impressive as they are interesting. Designed to complement each other, the polished crystal blocks also stand alone as stunning sculptural statements. Each candleholder is wrapped in a black fabric bag and packed in a polished white gift box. |
Golden Floral Hurricane
Small Loop Hurricane
Large Loop Hurricane
Cream/Gold Bubble Hurricane
Decorated with an imprinted floral pattern and with a metallic finish, this hurricane holds flickering candles for a natural glow at home.
The name of our Loop Hurricane comes from the conjoined circles or "loops" that construct the frame of this dazzling piece. A glass hurricane sits in an iron frame.
Our Gold Bubble Hurricanes are made from top of the line, Italian glass. Handmade and free-blown, these pieces are created following the tradition of the Murano glassmakers using a technique passed down from father to son. Inspired by objects created by ancient glassmakers and modified according to the contemporary style.
| | |
| --- | --- |
| | |
| Five Opulent Silver-Washed Candlesticks | Stargazer Flameless Cathedral Pillar Candle |
| Artisan-crafted opulent candlesticks. Lightweight, durable resin. Carved pedestals and bases with scrollwork. Hand-applied, multi-step silver-leaf based finish. Depending on the light, finish varies from silver to gold to champagne in appearance. | Enjoy the soft glow of candlelight anywhere inside your home safely. Long-lasting, cool to the touch, and smoke free, the Stargazer Flameless Cathederal Pillars features a moving flame illuminated by the warm glow of an LED bulb. |
| | | |
| --- | --- | --- |
| | | |
| Cubic Candle Holders, Set of 2 | Large Leaf Candle Holder | Branch Candle Holder |
| Candle holder made of crystal. | Aluminum candle holder veiled in detailing that resembles leaves. Holds a 3"Dia. candle; candle sold separately. | Handcrafted pillar candle holder is nestled into a branch of hand-cast and polished brass branches. At the white marble base is a cluster of natural quartz crystals. |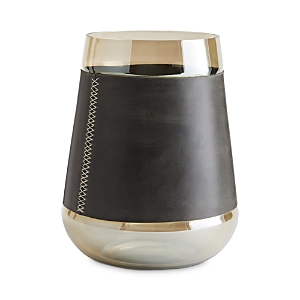 Arteriors Duncan Short Hurricane
Versatile design features a watertight hurricane glass accompanied by graphite leather for distinguished style/ Detailed with intricate stitching inspired by vintage steering wheels/ Functions as a vase or candleholder
| | | |
| --- | --- | --- |
| | | |
| "Floating Votive III" Decor | Rose Candleholder in Pink | Rogaska Superior 5" Votive Candle Holder |
| Shards of clear selenite encase a glass votive which appears to float over a crystal base. | Nature and its rounded, harmonious and delicate forms have inspired Daum's creations since the Art Nouveau period, of which Daum had acted as a major player. It was this artistic trend, characterized by inventiveness, colors, rhythms inspired by trees, insects, or other animals, that established Daum as an Art industry in the earlier 20th Century. For 140 years, Daum continues to pay tribute to the abundant, luxuriant and wild nature, through extraordinary pieces that reveal the exceptional know-how of the Daum atelier. These collections draw a link between the heritage of the past and the creations of the present day, as well as those to come. Handcrafted of hand-engraved crystal. Approx. 3.5"L x 3.7"W x 3.2"T. Made in France. | Candle holder is made of leaded crystal. Holds 5" votive candles. Approx. 3.5"Dia. x 3.8"T. |
| | | |
| --- | --- | --- |
| | | |
| Mirror Teardrop Candleholder | Acrylic Candle Sconce | Nora Wall Candle Sconce |
| Handcrafted three-dimensional shaped iron, finished in gold leaf. Features four, 3" x 3" candles set in front of mirrored accents. | Wall-mounted candle sconce. 6.625"W x 3"D x 16.375"T. Acrylic and steel. Gold-leaf finish. | Handcrafted acrylic candle wall sconce. Iron details in gold finish. Hangs vertical only. |
| | | |
| --- | --- | --- |
| | | |
| Catriona Mirrored Candle Sconce | Grand Fret Hurricane | Hammered Gold Sconce |
| Handcrafted candle sconce with antiqued mirror inset. Gold-leafed metal frame with light gray wash. 12"W x 6"D x 35.5"T. | The Grande Fret Hurricane design was inspired by a wooden fret detail found in the crown of a tall dresser in the Williamsburg Museum collection. The shape of the fret was reinterpreted in hand forged iron. The Iron has a rich gold finish. The metal back is the perfect balance for the enormous hand blown hurricane. | Hand-painted iron |
| | | |
| --- | --- | --- |
| | | |
| Lalique Muguet Votive | Lalique Mossi Votives, Set of 2 | Lalique Pivoine Votive |
| A symbol of good luck and René Lalique's favorite flower, lily of the valley plays on accumulation on this vase and votive. The light and delicate bells are revealed behind the long undulating leaves, as if rocked by the wind. The square shape contrasts with the curved lines of the motifs illuminated by satin-finished crystal. Dimensions: 3.82"L x 3.9"H | Set includes two votives. Clear kaleidoscope effect, creative genius, technical prowess, the Mossi votive synthesizes modernity in fine arts. Created by Rene Lalique in 1933 in clear glass, this emblematic piece is reinterpreted in the votive. | An emblematic flower, the peony is a symbol of prosperity, beauty and honor. A soft glow of candlelight will filter through the satin-finished crystal petals. |
Go to:
Add French-Luxury to your favorites. This boutique is just a start.