Contemporary Dressing from Casual to Glam
Contemporary dressing from casual tees to body conscious after-hours glamour with an independent spirit and French sense of style. Go to: Sleeper, Aureta Studio, Devotion Twins, Significant Other, Devotion, Exquise, Kerri Rosenthal, Forever That Girl, Ana K, Sundry, Conditions Apply, Hudson, Ollari

| | | |
| --- | --- | --- |
| | | |
| Sleeper Atlanta Linen Dress | Sleeper Atlanta Linen Dress | Sleeper Linen Brigitte Midi Dress |
| With long poet sleeves as lovely as a lyric, this romantic midi is a marriage-must have for a countryside occasion or meander through a meadow. Finished with a smocked bodice and gathered waist, this silhouette flourishes with subtle touches that set it apart from the rest. | A free-flowing silhouette destined for a dance on a French countryside or a pre-wedding picnic, dreamy poet sleeves with an exaggerated ruffled cuff elevate this midi dress with romance-infused details. | A sweet and feminine puff-sleeve daydream, this classic linen silhouette is finished with gathered puff sleeves and a modern square neckline for a look as lovely as the woman who wears it. |
| | | |
| --- | --- | --- |
| | | |
| Sleeper Atlanta Linen Dress | Sleeper Atlanta Linen Dress | Sleeper Atlanta Linen Dress |
| A free-flowing silhouette destined for a dance on a French countryside or a pre-wedding picnic, dreamy poet sleeves with an exaggerated ruffled cuff elevate this midi dress with romance-infused details. | Mingling simplicity with fairy tale charm, long off-the-shoulder poet sleeves add an enchanting element to this effortless yet unforgettable guest look. | A free-flowing silhouette destined for a dance on a French countryside or a pre-wedding picnic, dreamy poet sleeves with an exaggerated ruffled cuff elevate this midi dress with romance-infused details. |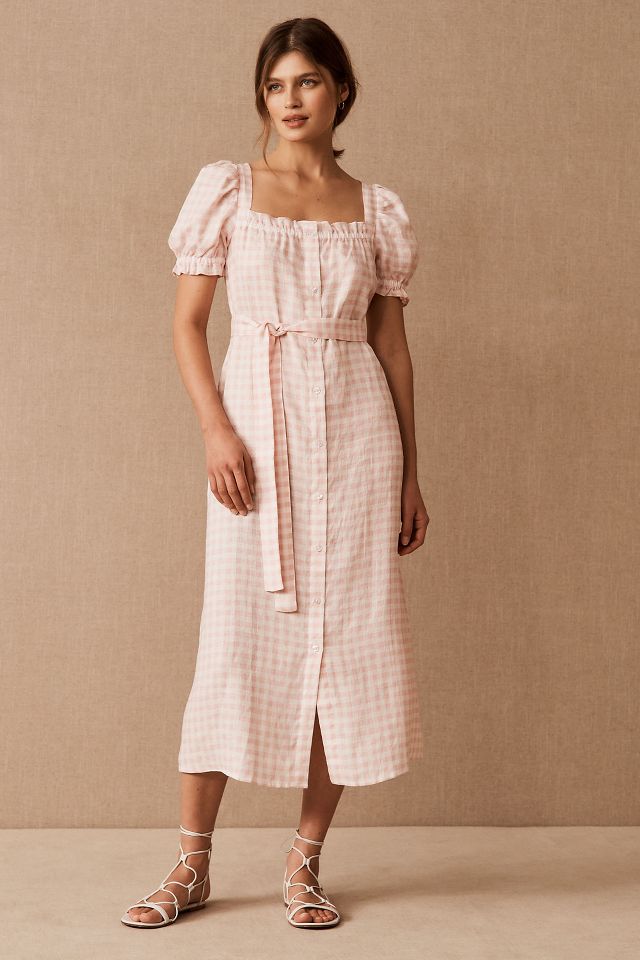 Sleeper Linen Brigitte Midi Dress
A sweet and feminine puff-sleeve daydream, this classic linen silhouette is finished with gathered puff sleeves and a modern square neckline for a look as lovely as the woman who wears it.
| | |
| --- | --- |
| Linen | This season, feel pretty in pink with this darling linen romper - its puffed sleeves lend a dreamy feminine touch. |
Founded in 2008, Exquise has gained international acclaim for its bold color palettes, innovative fits, and emphasis on quality craftsmanship. From formalwear and trousers to shimmery blouses and cozy knits, the label delivers time-tested pieces for the urbane, free-thinking woman of today.
An award-winning interior designer, stylist, and artist, Kerri Rosenthal's colorful creations inspire a feeling of pure joy - from playful home goods, to iconic apparel and accessories that function as wearable works of art.
Putting a chic French twist on West Coast style, Sundry represents a refined take on getaway-inspired weekend wear. Designed by Provence-born Matthieu Leblan and crafted in California, each "Almost French" piece is an instant, iconic classic.
When designing for her contemporary clothing line Conditions Apply, founder Diana Irani uses the Japanese "Wabi Sabi" approach - finding beauty in imperfection. Diana chooses to celebrate each fabric's weathered details and uniquely placed embellishments to evoke a one-of-a-kind, worn-in feel with every piece. Her illustration-style prints and textural finishes contrast beautifully with her modern cuts, for closet additions that will earn you compliments aplenty.
Driven by a youthful, optimistic spirit, Hudson delivers modern denim pieces in time-tested silhouettes. Designed to motivate and empower, the Hudson collection seeks to change the world by inspiring the minds of tomorrow.
Born and raised in New York City, Meagan Ollari - a graduate of the Academy of Art University in San Francisco - debuted her eponymous clothing label in 2008. Since then, Ollari has collaborated with internationally acclaimed brands to craft sophisticated womenswear with timeless sartorial appeal.
Go to:

Add French-Luxury to your favorites