Contemporary Dressing from Casual to Glam
Contemporary dressing from casual tees to body conscious after-hours glamour with an independent spirit and French sense of style. Go to: Ne Quittez Pas, Sundry. Lilka, CP Shades, Mo:Vint, Guest Editor, Knitted & Knotted, AMUR, Sweaters
| | | |
| --- | --- | --- |
| | | |
| Alia Pullover | Bells Out Poncho | Calle Pullover |
| Acrylic, wool | This wool number is an ideal topper for when the nights start to chill. | The daughter of designers, Paloma Lanna grew up surrounded by art, fashion and beauty in San Sebastian. Although she now calls Barcelona home, not all that much has changed - her airy, flower-filled studio offers a direct view of 'La Pedrera' by Gaudi. Designed with that masterwork and modern portraiture in mind, Paloma's latest collection of casual-cool essentials is as refreshing and vital as the artist herself. |
| | | |
| --- | --- | --- |
| | | |
| Intarsia Wave Pullover | Lara Pullover | Sonnie Long Cardigan |
| Viscose, cotton, nylon, wool, cashmere, polyester, metallic thread | Metallic threadwork adds a shimmery touch to this cozy, heavy knit pullover In 2010, Stella and Thomas founded Suncoo, a collection of neo-romantic, super-soft silhouettes that are both timeless and fashion-forward. The couple's artful garments are inherently feminine, but each design has a modern edge that's cool, effortless and simply Parisian. | Polyester, wool, nylon |
| | | |
| --- | --- | --- |
| | | |
| Cleo Wrap Cardigan | Levi's Shimmerstripe Turtleneck | Jacquard Leopard Cardigan |
| The daughter of designers, Paloma Lanna grew up surrounded by art, fashion and beauty in San Sebastian. Although she now calls Barcelona home, not all that much has changed - her airy, flower-filled studio offers a direct view of 'La Pedrera' by Gaudi. Designed with that masterwork and modern portraiture in mind, Paloma's latest collection of casual-cool essentials is as refreshing and vital as spring itself. | Acrylic, wool | Blogger Emily Schuman founded Cupcakes and Cashmere to document her favorite things: clothing, food and family. Embraced by fashionistas and foodies the world over, the blog has since evolved into an internationally renowned lifestyle brand. Inspired by Schuman's feminine style, her clothing collection is sophisticated, yet effortless - perfect for the on-the-go woman. |
| | | |
| --- | --- | --- |
| | | |
| Collared Cardigan | Icarus Cardigan | Eulalia Ruffled Cardigan |
| Nylon, wool, acrylic | This incredibly cozy cardigan is crafted from a premium wool blend in an of-the-moment striped pattern. | Adventurous and eclectic, the Line & Dot woman uses style to tell her story. From vintage-inspired dresses to of-the-moment tops, each silhouette is crafted with her in mind, for a collection of playfully modern garments she can wherever her free spirit takes her. |
| | | |
| --- | --- | --- |
| | | |
| AG Sandrine Cable Cardigan | Lovely Cardigan | Alpaca Blend Boxy Sweater |
| This cozy cable-knit cardigan is a timelessly chic cool-weather layer. | In a refurbished church along the canals of Amsterdam, the creatives at Scotch & Soda share the latest poems, artifacts and treasures that have sparked their imaginations. Inspired by worldly wonders, each global collection fuses unexpected patterns with classic textiles, resulting in the brand's signature era-mixing style. | Crafted from an alpaca fleece blend, this super-soft sweater features a ribbed hem for a classic look. |
| | | |
| --- | --- | --- |
| | | |
| Striped Chenille Pullover | Ruffled V-Neck Pullover | Circle-Knit Cardigan |
| Cotton, acrylic, pullover | Los Angeles-based artist and designer Hannah Byun finds inspiration in both everyday objects and unusual sights. Using colorful graphics and fun textiles, she founded Hansel from Basel to transform ordinary clothing and accessories into whimsical, wearable works of art. | Cotton, polyester |
| | | |
| --- | --- | --- |
| | | |
| Analisa Fringed Pullover | Fringed Cardigan | High-Low V-Neck Pullover |
| With each striking silhouette, Cecilia Prado embraces femininity and texture through her unique approach to design. Using bold, statement fabrics in an array of flattering patterns, each garment infuses a contemporary design with traditional elements for a timeless look. | Cotton, ramie. Fringed detail | Polyester, acrylic, nylon, wool |
Putting a chic French twist on West-Coast style, Sundry represents a refined take on getaway-inspired weekend wear. Designed by Provence-born Matthiew Leblan and crafted in California, each "Almost French" piece is an instant, iconic classic.
An acronym for "a mindful use of resources," AMUR uses only sustainably sourced materials to craft their contemporary, urban lifestyle-inspired collection. Each expertly tailored, eco-conscious silhouette captures the confidence of the modern woman
Mo:Vint is "modern vintage" – a collection of timeless pieces with updated silhouettes and styles that suit the twenty-first-century woman. Inspired in equal parts by the understatedly edgy New Yorker, the effortlessly chic Parisian and the breezy, bohemian Californian, the designers at Mo:Vint offer effortless, comfortable pieces that integrate seamlessly into your everyday wardrobe.
Using natural and sustainable fabrics, the artisans at CP Shades handcraft each beautifully constructed, perfectly timeless garment in view of the San Francisco Bay.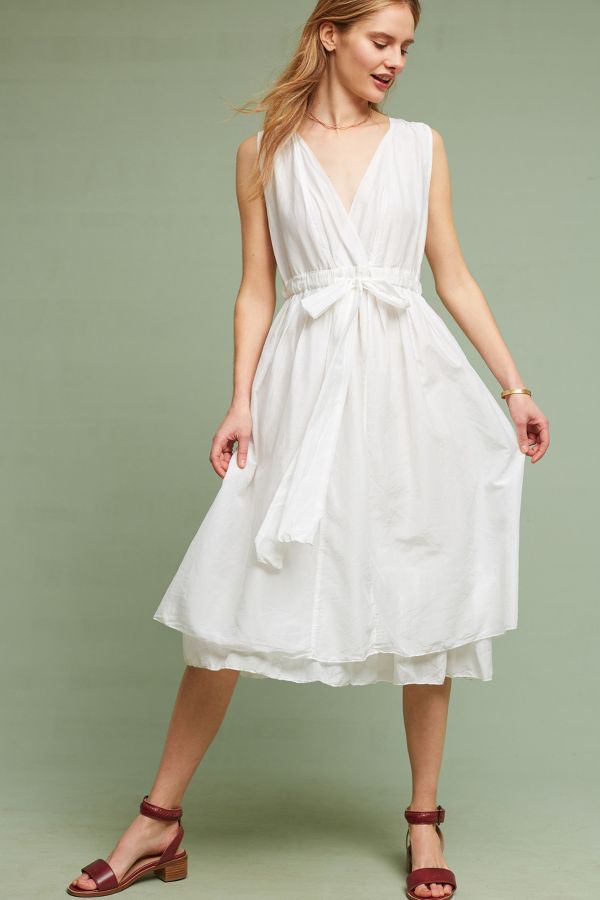 Julietta Midi Dress
This super-soft midi boasts a deep v-neck and a flattering sash for event-ready style.
Go to:

Add French-Luxury to your favorites