Bedding with French Style Grace
French designer bedding combining sophisticated designs with quality fabric and finishes. Sleep in style. Go directly to: Lili Alessandra, Karl Lagerfeld Paris, Yves Delorme, Anne de Solene Bedding Collections
| | | |
| --- | --- | --- |
| | | |
| Verona Bedding Collection | Verona Bedding Collection | Metro Bedding Collection |
| Printed duvet and shams are made of cotton. Urban Coverlet and shams are made of cotton. Decorative pillows are made of linen. | Printed duvet and shams are made of cotton. Urban Coverlet and shams are made of cotton. Decorative pillows are made of linen. | Duvet with contrast trim. Diamond-quilted velvet coverlet. Diana Fawn Velvet Throw. Pillows and shams |
| | | |
| --- | --- | --- |
| | | |
| Vendome Collection | Florencia Faded Damask Bedding Collection | Jackie Jacquard Collection |
| Duvet cover adorned with velvet appliqués and embroidery. Diamond-quilted velvet coverlet. Velvet dust skirt. Pillows and shams. | Duvet cover, shams and tailored three-panel dust skirt in faded damask pattern. Throw with 4" self fringe. Pillows | Duvet cover made of tencel and silk. Three-panel dust skirt made of polyester. Quilted hemline. Reversible. Pillows and shams. |
| | | |
| --- | --- | --- |
| | | |
| Naz Bedding Collection | Lili Alessandra Bloom Bedding Collection | Chloe and Yovanna Collections |
| Duvet and shams in metallic ripple pattern and self flange. Pillows | Create a fresh look in any bedroom with the Bloom bedding collection from Lili Alessandra, featuring the cozy comfort of linen. 300-thread count. Double flange edge. 100% linen | Velvet comforter with embroidered details. Yovanna Padded Throw and shams. Metallic printed throw and shams. Faux Fur Throw. Yovanna Gold Shimmer Curtain Panels. Pillows |
| | | |
| --- | --- | --- |
| | | |
| Soho Collection | Cassandre Linen Bedding Collection | Zara Bedding Collection |
| Soho Duvet Cover and shams. Made of linen with velvet appliqué detail. Mozart Throw and pillows made of linen with velvet appliqué detail. | Contemporary washed linen that can go from relaxed to sophisticated. Lalique Matte Velvet Coverlet. An indulgent collection of quilted matte velvets in white for a feel of Modern Luxury. Linen throw with contrast appliqués. Pillows, shams | Featuring a textured design, the Zara bedding collection from Lili Alessandra provides luxe style and cozy comfort. |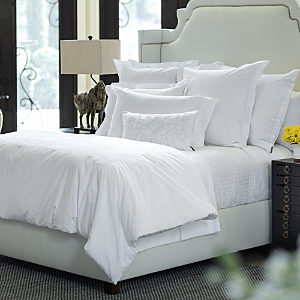 Bella Bedding Collection
Featuring the soft touch of cotton, the Bella bedding collection offers cozy comfort and luxe style.
| | | |
| --- | --- | --- |
| | | |
| Tweed Classique 3 Piece Comforter Set | Icon 3 Piece Quilt Set | Le Comfy 3 Piece Comforter Set |
| From the little black dress to its better in black, Karl Lagerfeld Paris brings Parisian chic style to your bedroom. This tweed bedding adds an elegant touch to your room with its black and white details. Two slim white stripes frame the bed with subtle texture from the open fringe. | Relax, unwind and dream of Paris. Sketched symbols of Paris are printed across the face of this quilt and sham set. The oversized graphic makes this a statement piece in your bedroom. Flip to the reverse to find black and white stripes for easy styling. | Finding the balance between classic and contemporary is effortless with Le Comfy comforter set. Following the less is more rule, this bedding takes that approach offering a timeless style. The grey ground is complete on its own or ready to be decorated with prints, textures, and colors. |
| | |
| --- | --- |
| | |
| Poppies 3 Piece Comforter Set | Karl Lagerfeld Paris Dot 3 Piece Comforter Set |
| The classic floral bedding gets a Parisian update with Karl Lagerfeld Paris. Free form black poppies bloom across the comforter and shams. The white ground gives this bedding a versatile element that makes it easy to style with other colors and prints. | Your black bedding staple gets a luxurious update with a Swiss dot technique. With its subtle texture, the dotted pattern offers a tasteful look with its delicate details. The hem is garnished with tie closures to complete this elegant view. |
Recognized for its prints and timeless classics, Yves Delorme crafts luxury bedding that embodies the French lifestyle. Yves Delorme's exquisite collections are distinguished by their uncompromising quality and meticulous attention to detail.
| | | |
| --- | --- | --- |
| | | |
| Aurore Bedding Collection | Riviera Bedding Collection | Blossom Bedding Collection |
| The luminous cotton sateen bedding in Yves Delorme's Aurore collection features a delicate print inspired by 18th-century floral engravings. This harmonious look is crafted in France using 100% long-staple organic cotton for a sumptuous feel against the skin. 300-thread count. | Recognized for prints based on original artwork and haute couture, luxury lifestyle brand Yves Delorme introduces the Riviera Bedding Collection featuring an elegant print of fanciful painted flowers, line drawings and vibrant colors. | The crisp cotton percale of Yves Delorme's Blossom bedding is printed with blooms and botanical motifs against a frosty blue background. This striking collection features piped trim along the edges for an elegant finishing touch. 200-thread count. 100% long-staple organic cotton percale |
| | | |
| --- | --- | --- |
| | | |
| Romance Collection | Adagio Bedding Collection | Athena Collection |
| Fall in love with luxury. Crafted in the tradition of fine French linen mills, the Romance Bedding Collection from Yves Delorme is woven with a subtle floral that reveals variations of tone and texture. A true indulgence for the bedroom in 500-thread count cotton sateen detailed with delicate picot stitching. | Woven in silky cotton sateen and meticulously crafted at the Yves Delorme Couture Atelier in Haubourdin France, the Adagio Collection from Yves Delorme features double saddle stitching, which breaks up the clean, crisp look of this luxurious bedding with modern texture. | Classic and elegant, the Athena bedding collection from Yves Delorme features a simple embroidered border against crisp, white 500-thread count cotton percale |
| | | |
| --- | --- | --- |
| | | |
| Abri Bedding Collection | Utopia Bedding Collection | Au Loin Bedding Collection |
| Relaxing motifs and the exquisite elegance of organic cotton make the Abri bedding collection from Yves Delorme a bedroom decor essential. | Wake up each morning surrounded by a lush tropical paradise with blooms from Yves Delorme's Utopia collection. Dense and brilliant, this floral elegance brightens any boudoir. | Bring a look of understated sophistication to your boudoir with the Au Loin collection from Yves Delorme. Combining rich marble-look damask with solid sateen in soothing shades, this French design brings a je-ne-sais-quois beauty that's calm, comforting and elegant. |
| | | |
| --- | --- | --- |
| | | |
| Flandre Bedding Collection | Lutece Bedding Collection | Complice Bedding Collection |
| Yves Delorme's Flandre bedding collection—crafted from combed, long staple cotton percale—features a subtle embroidered inset detail and is finished by coordinated piping at the edges. | Yves Delorme presents the Lutece collection, delivering 300-thread count cotton sateen bedding with a softly contrasting border and bourdon stitching. | Soothing hues and graceful patterns define the Complice bedding collection from Yves Delome. Stylized foliage and birds gracefully intertwine on soft sage green damask for elegant bed wardrobing. |
| | | |
| --- | --- | --- |
| | | |
| Triomphe Collection | Oriane Bedding Collection | Victoire Bedding Collection |
| Soft as silk, the Triomphe bedding collection from Yves Delorme is an expression of classic luxury. Crafted from fine Egyptian combed cotton with a luxurious sateen finish, the sheets, duvet cover and coverlet feature a raised double-saddle stitch border for an interesting accent. | On its own or paired with other collections, Yves Delorme's Oriane bedding adds a modern yet romantic touch to any bedroom. This crisp percale bedding is made in France from organic long-staple cotton and finished with openwork embroidered trim. | Hallmarked by delicate embroidered borders, the Victoire bedding collection by Yves Delorme offers a look of quiet sophistication. Subtle enough to combine with other patterns for rich layering yet elegant and soothing on its own, this pure cotton collection from France is all about sweet dreams. |
| | | |
| --- | --- | --- |
| | | |
| Epcure Bedding Collection | Un Jour Une Histoire Bedding Collection | Fogue Bedding Collection |
| French elan shines through in the Epcure collection from Yves Delorme. Airy pastel flowers are complemented by a dense small-scale print with a painterly effect, creating a lovely contrast of scale in long-staple cotton sateen for a blooming boudoir. | Create a fresh look in your bedroom with the Un Jour Une Histoire Bedding Collection from Yves Delorme, featuring botanical and floral motifs. | Bring a garden into your boudoir with the Fogue collection from Yves Delorme. An airy print of deep jewel-toned flowers is joined by a complementary print of the same blooms in monotone outlines, creating a bedroom suite that's petal perfect. |
| | | |
| --- | --- | --- |
| | | |
| Belle de Nuit Bedding Collection | Nuit Blanche Bedding Collection | Ecrit de Loin Bedding Collection |
| Inspired by paper decoupage, the Belle de Nuit flowers are a delicate contemporary collection with powdery pastels and bold ink. Made with an organic cotton percale, the sheets combine softness and strength into a smooth fabric, ensuring long-lasting comfort. | An imaginative and striking collection by Yves Delorme. The design features a gradient of flowers on a midnight background. Nuit Blanche combines the sweetness of abstract flowers with a geometric design technique. | Ecrit de Loin translates into "written from afar" and characterizes this contemporary jacquard bed linen collection by Yves Delorme. Evoking distant lands and exotic animals in soft geometrics, this bedding has a lustrous sheen perfect for year-round style and comfort. |
| | | |
| --- | --- | --- |
| | | |
| Audace Bedding Collection | Eden Bedding Collection | Clemence Bedding Collection |
| Anne de Solene is revered for its elusive combination of modern style and refinement, and the Audace collection is no exception. Crafted in cotton percale, the duvet covers and shams are defined by a wave-like geometric print reminiscent of colorful leaves. The understated repeating circle motif of the sheets and pillows serves as a playful counterpoint to the brilliant patterns. | Add a modern update to your bedroom decor with the Eden bedding collection by Anne de Solene, featuring an animal print design coordinated with a sophisticated geometric print. | Artistic, painterly blooms are splattered across a white background in Anne de Solene's delightful Clemence Bedding collection. It artfully combines luxury, femininity and a touch of romance in cotton sateen. |
| | | |
| --- | --- | --- |
| | | |
| Escapade Bedding Collection | Fleur de Perse Bedding Collection | Canopée Bedding Collection |
| The blues are beautiful in Anne de Solene's Escapade Bedding Collection of lovely contemporary prints on all-cotton percale. | A stunning update on traditional design, Anne de Solene's Fleur de Perse bedding collection features stylish florals and coordinating solid pieces on all-cotton sateen. | Create a relaxing space with Anne de Solene's Canopée Bedding Collection, soft jacquard sateen pieces in all-cotton with a combination of lush leafy prints and tonal themes. |
| | | |
| --- | --- | --- |
| | | |
| Melodie Bedding Collection | Glycine Bedding Collection | Violette Bedding Collection |
| Floral refresh: Anne de Solene's Melodie bedding collection presents a reimagined cottage garden with a fantasy botanical print. 100% cotton | Anne de Solene's sweet-natured Glycine bedding collection captures an ideal moment of spring, where trailing vines of pink flowers float upon a haze of new leaves and drifting petals. | This delicate violet floral jacquard print by Anne de Solene epitomizes romance. Relax into luxury and softness with this beautiful sateen collection. |
| | | |
| --- | --- | --- |
| | | |
| Marquise Bedding Collection | Rosee Bedding Collection | Cornelia Bedding Collection |
| Anne de Solene taps tradition for the Marquise bedding collection, which features snowy white long-staple cotton adorned in cobalt blue floral patterns. | The Rosee bedding collection by Anne de Solene combines two chic abstract prints bringing double the options to your bedroom decor. | Anne de Solene's Cornelia Bedding Collection is covered with a romantic print depicting leaves that fly away in an unbridled rhythm. |
| | | |
| --- | --- | --- |
| | | |
| Desiree Bedding Collection | Vexin Collection | Felicie Bedding Collection |
| Delicate cherry blossoms adorn beautiful sateen jacquard in this Desiree Bedding Collection by Anne de Solene, featuring a unique hand-painted look. | A classic and elegant bedding collection by Anne de Solene, in 200-thread count cotton percale finished with a luxe Bourdon-embroidered line. | A profusion of vibrant pink flowers twine into everlasting bouquets for Anne de Solene's romantic Felice bedding collection. |
| | |
| --- | --- |
| | |
| Atoll Collection | Paisley Bedding Collection |
| Crafted from long-staple combed cotton, the Atoll Collection from Anne de Solene features duvets, sheets and shams with luxurious thread counts and colorful border stitching. | Supremely soft sateen lends a luxurious feel to this inviting Anne De Solene collection, while a sophisticated two-tone paisley motif offers classic style. |
| | | |
| --- | --- | --- |
| | | |
| Dahlia Bedding Collection | Four Continents Bedding Collection | Palmaria Bedding Collection |
| Contemporary and stylish, the Dahlia bedding collection showcases a floral design that completes any room's decor. | The Four Continents design by Anne de Solene combines a toile de Jouy design of 1794 coordinated with a striped reverse. | Create a lush look in any bedroom with the Palmaria bedding collection from Anne de Solene, featuring the soft touch of cotton sateen and a chic botanical design. |
| | | |
| --- | --- | --- |
| | | |
| Muse Bedding Collection | Merveille Bedding Collection | Anna Bedding Collection |
| A lustrous gray background hosts pale floral bouquets for this eternally elegant Muse bedding collection from Anne de Solene. | Add elegant style to your room with the Merveille bedding collection from Anne de Solene, featuring the smooth comfort of cotton sateen and a charming print design. | Bright and bonny florals unite for the joyful Anna bedding collection from Anne de Solene. Watercolor tones of pink, yellow and green are at play throughout the scaled patterns, creating an elegant and warm-hearted ensemble. |
| | | |
| --- | --- | --- |
| | | |
| Rendez-Vous Bedding Collection | Joli Jour Bedding Collection | Royal Bedding Collection |
| Colorful and vibrant, the Rendez-Vous bedding collection from Anne de Solene provides the luxe comfort of cotton sateen and a fresh geometric design. | Calm and soothing hues of tan, grege and blue trace anemone flowers upon a white ground of crisp percale for the Joli Jour bedding collection by Anne de Solene. | Featuring a cosmopolitan combination of paisley scrolls and rich sold blue hues, the Royal bedding collection from Anne de Solene is crafted of sumptuously soft and smooth cotton sateen, then finished with sophisticated details like bourdon line embroidered detailing to tie the entire look together. |
Go to:
Add French-Luxury to your favorites