Flower Arrangements and Centerpieces for the French Inspired Home
Flowers play an important role in French culture. Paris and many other French cities have stands on almost every corner making it easy for the French to make flowers and plants part of their everyday life. Now it's just as easy for you to add that freshness and beauty to your home. From a single, striking stem to roses and lush bouquets, or potted plants, nothing adds life to a room like flowers. For birthdays, romantic occasions, or any other celebrations, they're great gifts--they always send the right message! Go to: French Flowers, Stems and Bunches, Vases
Everyone loves to have fresh flowers but it's not every week that we can get to the floral shop to buy them and sometimes there are spaces in the home that call for a 'remarkable' option -- a floral arrangement and container that truly ties in with the space and its decor. For those times, it's nice to invest in a silk floral that will last for many years to come.
| | |
| --- | --- |
| | |
| Farmgirl Flowers Fresh Cut Bouquet | FAUX HYDRANGEA STEM, BLUE |
| Designed exclusively for terrain in collaboration with Farmgirl Flowers, this burlap-wrapped bouquet makes a beautiful gift. In a palette of reds, whites and pale pinks, each 20 or 35-stem bouquet is made with freshly-cut blooms, grasses, foliage and pods, sourced from select growers and wrapped in an upcycled coffee bag. Because Farmgirl chooses only the best flowers in season, the bouquet styles will change slightly each week, but you can always expect an abundant collection of incredibly fresh blooms from known and trusted growers. | Use hydrangeas in a stunning and unexpected autumnal display. The large faux blooms come in rich colors for showy arrangements when presented in a group. |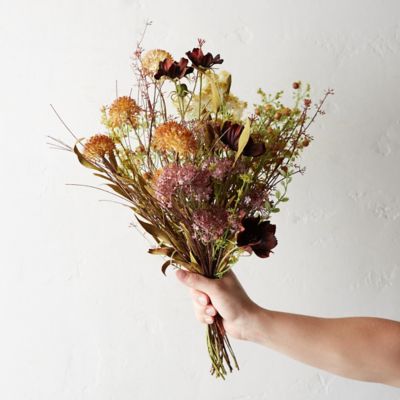 Harvest Meadow Faux Bouquet
Blooms in harvest hues add long-lasting and lifelike color around the house with this remarkably realistic bouquet of faux flowers. From acclaimed English designer Abigail Ahern, each bouquet is hand-assembled and tied with a decorative bow.
| | |
| --- | --- |
| | |
| LACE HYDRANGEA STEM, IVORY | Lavender Bunch |
| Variegated soft white hues give our hydrangea a remarkably realistic appearance. Combine it with other dried or faux botanicals as a delicate textural accent. | Pop a bunch of dried lavender in a vase and enjoy its sweet scent and beautiful purple color. |
| | | |
| --- | --- | --- |
| | | |
| Baccarat Tall Louxor Vase | Baccarat Blue Louxor Vase | Baccarat Small Spirale Vase |
| Handcrafted vase. Full-lead crystal. Design features nine "pyramids" on the main faces, three "pyramids" on the sides, and a vertical gadroon motif on the interior to reflect and scatter light. | Handcrafted vase. 7.875"T. Crystal. Hand wash. Made in France. | Designed by Thomas Bastide. Clear- crystal vase. Limited edition. |
Go to:
Add French-Luxury to your favorites