Easy Weekend Wear
Easy weekend wear. Relaxed pieces with comfortable style to expand your wardrobe. Go to: Moth, Isla Maude, Bordeaux, Ella Mara, Conditions Apply, AMO

| | | |
| --- | --- | --- |
| | | |
| Pastel Blouse | Hockney Pullover | Kynsa Tunic |
| Add some spring-worthy color to your wardrobe via this painterly piece. | Add some whimsy to your wardrobe with this eye-catching printed number. | Featuring a patchwork of colorful patterns, this tunic top makes a bold statement. |
| | | |
| --- | --- | --- |
| | | |
| Concello Pullover | Prismatic Blouse | Somerville Blouse |
| Add some much needed color and cheer to your wardrobe via this printed top. | In a rainbow of color, the pattern on this blouse makes a bold statement this season. | Liven up your wardrobe by donning a bold geometric print, like the one seen on this blouse. |
Tops
| | | |
| --- | --- | --- |
| | | |
| Tino Tee | Ruffled Strawberry Top | Prismatic Blouse |
| 100% modal | This strawberry-printed top adds a summertime sweetness to full skirts or your favorite jeans. | In a rainbow of color, the pattern on this blouse makes a bold statement this season |
| | | |
| --- | --- | --- |
| | | |
| Windham Tunic | Malaga Tiered Tunic | Westerly Striped Top |
| We love layering this tunic top over our favorite knit leggings - it's a pairing of unsurpassed comfort and versatility, and never goes out of style. | 50% sheer polyester, 35% cotton, 15% rayon | 56% cotton, 40% polyester, 4% spandex |
| | | |
| --- | --- | --- |
| | | |
| Seidler Ribbed Tank | Desmond Tunic | Ribbed Knit Camisole |
| Cotton, rayon, polyester, spandex | 63% rayon, 32% cotton, 3% linen, 1% nylon, 1% spandex | A quality basic for all your warm-weather escapes, this ribbed cami tucks into everything from skirts to jeans and everything in between. |
| | | |
| --- | --- | --- |
| | | |
| Islander Embroidered Tank | Zadkine Sweater Tank | Tiered Lace Blouse |
| The easiest ensembles are two-of-a-kind. When paired with its matching pants, this embroidered cami gives the illusion of a relaxed jumpsuit. | In a spring-ready silhouette, this fun knit will quickly become a closet staple. | Delicate lace gives this swing top a romantic air. |
| | | |
| --- | --- | --- |
| | | |
| Latticed Sweater Tee | Biloxi Collared Top | Deanna Knit Pullover |
| Bringing back every super-soft element that made this knit a favorite last year, this sweater tee will transition you into warmer months. | Featuring a collared neckline and tied front, this sleeveless piece is a quintessential summer top. | Rayon, spandex |
| | | |
| --- | --- | --- |
| | | |
| Cupro Open-Shoulder Top | Textured Off-The-Shoulder Top | Rambuteau Surplice Top |
| Cupro is the best of both worlds: It has the breathability of cotton with a soft, silk-like feel. Draping elegantly, the material is also washable and resistant to wrinkles - making it the easiest packing essential and an unfailing travel companion. | This feminine classic is the perfect complement to a warm evening. | 85% rayon, 15% nylon |
| | | |
| --- | --- | --- |
| | | |
| Harloe Belted Top | Rialto Stitched Top | Belted Halter Top |
| Whether you pair with breezy joggers, printed skirts, or your favorite jeans, this belted top does it all with style and grace. | At once nostalgic and fashion-forward, this vintage-inspired silhouette elevates every outfit with its signature tied sleeves. | 84% cotton, 14% polyamide, 2% elastane |
| | | |
| --- | --- | --- |
| | | |
| Peplum Sweater Tank | Banded Tee | Temecula Top |
| For the perfect transitional piece, look no further than the sweater tank - this sleeveless knit partners well with everything in your closet, from weekend denim to polished pencil skirts. | 100% cotton | 68% cotton, 26% polyester, 6% linen |
Clean and linear, Moth is known for transforming current trends into wearable sweater silhouettes. Moth relies on simple yarns and pure shapes to make a statement, and in turn appeals to women who want a feminine look without any fussiness.
| | | |
| --- | --- | --- |
| | | |
| Milo Sweater Tank | Ombré Open-Knit Pullover | Remi Knit Top |
| This wear-anywhere sweater tank adds a pop of instant texture to any outfit. | With a subtle ombré look, this lightweight knit will transition you well into summer. | For the perfect transitional piece, look no further than the sweater tank - this sleeveless knit styles well with everything in your closet. |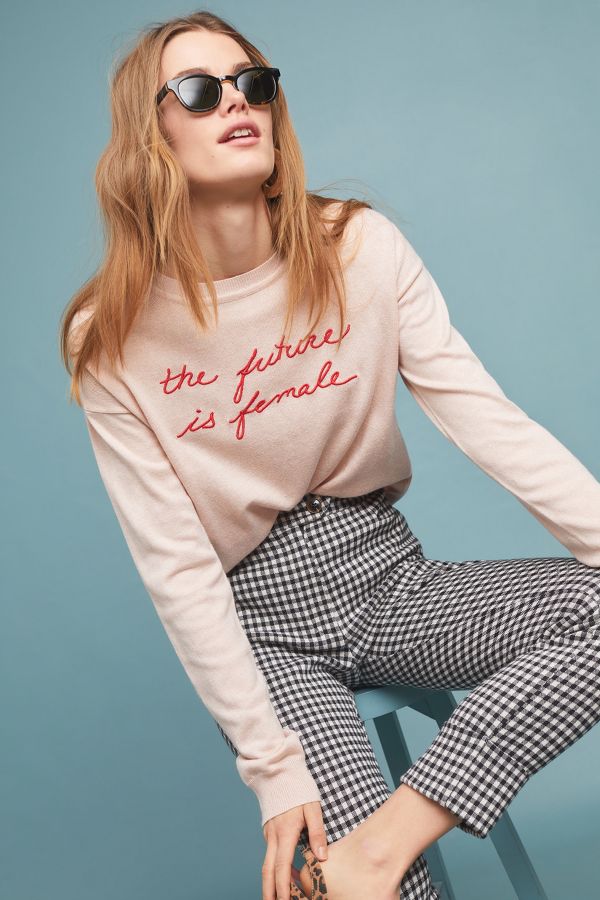 The Future is Female Sweater
"The Future is Female" tee was originally designed for Laybris Books, New York City's first women's bookstore, in 1972. The feminist slogan still graces graphic tees and pullovers to this day, empowering a new generation to speak up for meaningful change.
| | | |
| --- | --- | --- |
| | | |
| Sidonie Top | Hadley Tied Top | Quinn Tunic |
| 96% rayon, 4% spandex | Whether you pair it with a mini skirt or well-worn denim, this tied-front top is an elevated choice for every day. | We love layering this tunic top over our favorite knit leggings - it's a pairing of unsurpassed comfort and versatility, and never goes out of style. |
| | |
| --- | --- |
| | |
| Cupro Midi Dress | Annalee Jumpsuit |
| Cupro is the best of both worlds: It has the breathability of cotton with a soft, silk-like feel. Draping elegantly, the material is also washable and resistant to wrinkles - making it the easiest packing essential and an unfailing travel companion. | Modal, polyester |
Named after the Latin word for love, AMO was founded in 2014 by industry veterans Kelly Urban and Misty Zollars, who imbue each LA-made pair with the passion and enthusiasm they feel for denim as a whole. Known for their feminine fits and vintage details, AMO jeans are cut from the finest quality materials and carry the same fearless spirit that inspired the brand's founding. Designed by and for women who want their clothing to work with their figure, style and way of life, each collection features timeless classics with a contemporary edge.
| | | |
| --- | --- | --- |
| | | |
| AMO Babe High-Rise Straight Jeans | AMO Chloe High-Rise Straight Cropped Jeans | AMO Denim Jacket |
| With a retro-inspired high rise, this denim pair fits slimly through hip and finishes with a straight leg. | With a retro-inspired high rise, this denim pair fits slimly through hip and finishes with a straight leg. | Featuring a modern take on the classic denim jacket, this super-soft version comes is a surprisingly versatile piece you'll want to wear with everything. |
Go to:
Add French-Luxury to your favorites