Easy Weekend Wear
Easy weekend wear. Relaxed pieces with comfortable style to expand your wardrobe. Go to: Mes Demoiselles, TheKorner, Isla Maude, Conditions Apply, AMO, Porridge, Nikasha, Tops, Pants

Sita Murt
Balanced and authentic, Sita Murt uses high-quality, locally sourced materials for each effortless piece. Their natural chic aesthetic and artistic approach to fashion blend for a timelessly elegant collection that invigorates the spirit and inspires one to dream.
| | | |
| --- | --- | --- |
| | | |
| Tweed Colorblocked Turtleneck Sweater | Tweed Poncho Cardigan | Kintyre Fair Isle Sweater |
| Colorbocked with rosy hues and a touch of tweed, this ultra-cozy turtleneck is one you'll cherish year after year. | Featuring a relaxed, poncho-inspired silhouette and a touch of tweed, this versatile cardigan layers perfectly with your favorite turtlenecks, tees, and blouses. | Fair Isle is a traditional knit, named for the tiny island in Scotland where the technique was born. Featuring a five-color palette with two colors per row, it's an iconic cold-weather look that can read preppy, retro, or modern - it all depends on how you style it. |
| | | |
| --- | --- | --- |
| | | |
| Denise Ribbed Colorblocked Cardigan | Elisabetta Colorblocked Sweater | Ella Striped Cardigan |
| Inspired by the abstract, geometric work of Dutch painter Piet Mondrian, Yves St. Laurent introduced sartorial colorblocking with his iconic Mondrian Collection. Today, the trend extends beyond neutrals and primary colors to an infinite array of bold combinations - like the gray, blue, and black hues on this pullover. | Featuring colorblocked stripes and contrasting cuffs, this wardrobe favorite brings a colorful twist to cold-weather outfitting. | This classic cardigan receives an au courant twist with cheerfully colorful stripes you'll treasure in the colder months. |
| | |
| --- | --- |
| | |
| Inez Striped Pullover | Carina Sweater Coat |
| This wear-anywhere sweater adds a pop of texture and flair to any ensemble. | This colorful "coatigan" is the slouchier, softer alternative to a more structured coat. Very cozy, but also lightweight, it's the perfect solution for not-quite-freezing conditions. |
Anita Radovanovic launched Mes Demoiselles in 2006. With a nod to times past, each dreamy, bohemian piece begins as a painting in her Parisian studio.
| | | |
| --- | --- | --- |
| | | |
| Victoire Silk Tunic | Morgana Silk Peasant Blouse | Laurentia Patchwork Silk Skirt |
| Irresistible silk and a flattering cinch at the waist make this semi-sheer tunic an ideal layering piece. | With a draped silhouette and a sumptuous silk fabrication, one touch of this blouse will leave you lovestruck for days. | The sartorial practice of using material scraps blossomed into the patchwork designs we know and love today. Perfectly pieced-together patterns, like the ones found on this silk skirt, offer plenty of color for a statement piece you'll want to wear everywhere. |
| | | |
| --- | --- | --- |
| | | |
| Nell High-Rise Wide-Leg Trousers | Textured Trieste Bomber Coat | Sedona Peasant Blouse |
| In an all-over geometric pattern, these breezy wide legs offer an au-courant alternative to your go-to skinnies. | When it comes to trendy faux fur and the dreamiest of sherpa-style fleeces, why pick just one? This embroidered bomber coat gives you the best of all worlds, offering versatility in its coziest, most fashion-forward form. | With bold hues and delicate embroidery, this wear-everywhere blouse is an elegant essential. |
Jaime Puff-Sleeved Top
We love outfitting this feminine top with high-waisted silhouettes - like wide-leg pants and billowing skirts - for figure-flattering style all season long.
World-renowned for incorporating traditional fabrication and embroidery in each thoughtful piece, Nikasha has been designing womenswear for over a decade. With each delicately detailed garment, the label pays homage to India'??s rich culture, while incorporating contemporary handcrafted elements to set them apart.
| | | |
| --- | --- | --- |
| | | |
| Toscana Peasant Blouse | Batik Blouse | Bethann Beaded Tank |
| Blending vibrant floral prints, this peasant blouse goes the extra mile when it comes to pattern play. | Dusky red blooms and ladder lace make this peasant blouse a dreamy, easy-to-style essential. | Beaded embellishments make this tank a head-turning addition to any summer ensemble. |
| | | |
| --- | --- | --- |
| | | |
| Jalisco Blouse | Brooke Blouse | Amy Embellished Peasant Blouse |
| The '70s-inspired peasant top remains a favorite for its blouson sleeves, which lend a soft, breezy quality and laidback air to any outfit. Balance its loose fit by tucking it into denim shorts or a high-waisted pair of pants. | This season, opt for a fiercely chic print, like the leopard one found on this blouse. | This floral peasant top is the ultimate day-to-evening piece - pair with trousers and barely-there heels to achieve a more elevated effect. |
| | | |
| --- | --- | --- |
| | | |
| Gemini Lace Top | Brittany Lace Top | Miranda Ribbed Flutter Blouse |
| All-over eyelet and scalloped trim make for an irresistibly pretty pairing. | Scalloped edges and intricate lace details make this sophisticated top an endlessly versatile essential. | Flutter sleeves bring a playful edge to this structured rib-knit blouse - pair it with a pencil skirt or skinny jeans for a perfectly polished ensemble. |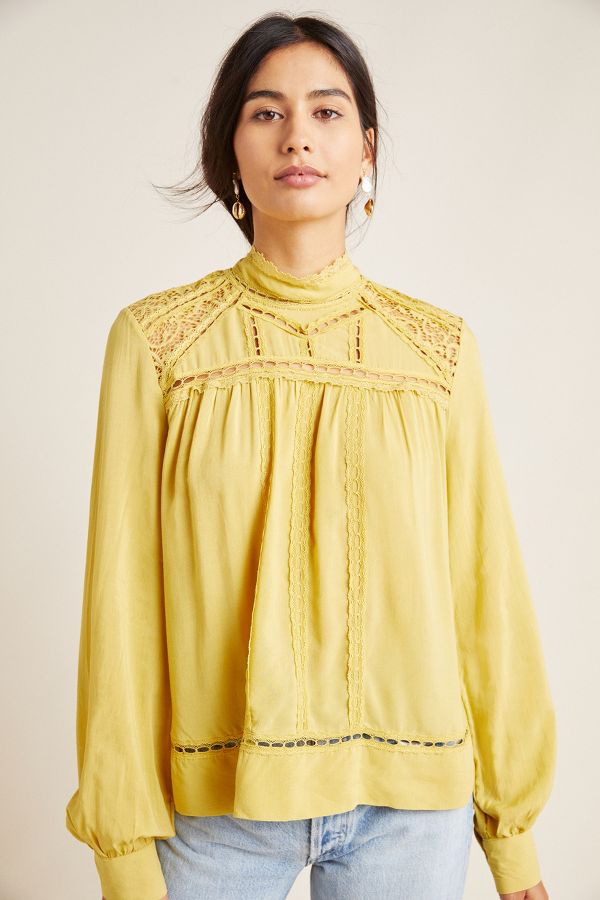 Melody Peasant Blouse
With delicate lace and a bold, saturated hue, this striking peasant blouse is an ideal match for your favorite denim, linen trousers, breezy shorts, and more.
Named after the Latin word for love, AMO was founded in 2014 by industry veterans Kelly Urban and Misty Zollars, who imbue each LA-made pair with the passion and enthusiasm they feel for denim as a whole. Known for their feminine fits and vintage details, AMO jeans are cut from the finest quality materials and carry the same fearless spirit that inspired the brandís founding. Designed by and for women who want their clothing to work with their figure, style and way of life, each collection features timeless classics with a contemporary edge.
| | | |
| --- | --- | --- |
| | | |
| Dickens Trousers | Malcolm Plaid Tapered Trousers | Wiley Windowpane Bootcut Trousers |
| Featuring a menswear-inspired plaid print, these cropped trousers feature a sporty side stripe for a contemporary, feminine feel. | Rendered in menswear-inspired plaid, these trousers feature a flattering, tapered fit that suits workdays and weekends alike. | Dress for success - without compromising style - in these sophisticated trousers, featuring a tailored fit and muted windowpane motif. |
| | | |
| --- | --- | --- |
| | | |
| Kelley Skirt | Courtney Cropped Wide-Leg Pants | Addison Ultra High-Rise Knit Skinny Pants |
| A fit-to-flare silhouette makes this mini skirt a styling essential - pair it with a slouchy sweater or your favorite graphic tee for a relaxed, oh-so-feminine ensemble. | Crafted from a lightweight, wrinkle-free knit, these wide-leg pants are a workday and weekend essential - flattering, easy-to-elevate, and oh-so-comfortable, too. | Crafted from a lightweight, wrinkle-free knit, these skinny pants are a workday and weekend essential - flattering, easy-to-elevate, and oh-so-comfortable, too. |
| | | |
| --- | --- | --- |
| | | |
| Relaxed Utility Pants | Jennie Ripstop Cargo Pants | Faux Suede Leggings |
| We've put a bright, preppy spin on practicality: These relaxed pants include a removable woven belt for a laidback look you'll love. | Lightweight yet durable at once, these ripstop cargo pants are a perfect fusion of form and function. | Crafted from luxe faux suede, these stylish leggings offer comfort and class for the cooler days to come. |
| | | |
| --- | --- | --- |
| | | |
| Slouched Trousers | Persephone Tiered Maxi Skirt | Phoebe Pleated Midi Skirt |
| Fitted at the waist, these slightly slouched trousers promise comfort from the time you clock in to the end of your day. | Embrace the coming of cooler months in this tiered maxi skirt - pair it with your favorite ankle boots and a leather jacket for an effortlessly chic look. | An eye-catching hue and a dotted motif make this pleated midi skirt a party-ready essential. |
| | | |
| --- | --- | --- |
| | | |
| Marsden Wide-Leg Pants | Sweater-Knit Joggers | Jefferson High-Rise Slim Utility Pants |
| Featuring a goes-with-anything abstract print, these breezy wide legs offer an ultra-comfy alternative to your favorite skinnies. | With the polished look of trousers and the laidback feel of joggers, this slim-fitting pair can be dressed up or down with ease. Their striking print is complemented by a sweet velvet bow for a feminine finish. | Form, meet function: These trendy cargo-inspired pants feature a slim fit with plenty of pockets to spare. |
| | | |
| --- | --- | --- |
| | | |
| Spirited Patchwork Wide-Leg Pants | Cargo Harem Pants | Nieves Relaxed Cargo Pants |
| Featuring vibrant contrast prints, this wide-leg pair combines all the feminine flair of your favorite skirt with versatility and ease of your go-to bottoms. | These on-trend cargo pants feature a tapered silhouette, roomy pockets, and sweet above-the-ankle bows. | Perfect for year-round styling, these cargo pants have a laidback aesthetic you'll love for years to come. |
| | | |
| --- | --- | --- |
| | | |
| Relaxed Embroidered Trousers | Mixed-Knit Joggers | Printed Harem Pants |
| We've stitched fresh-picked flourishes into the seams of these relaxed, pocketed trousers for a look that's both feminine and functional. | These carpenter-style joggers have a laidback aesthetic you'll love for years to come. | Our newest cut is a celebration of drama - this ultra-comfortable silhouette makes these pants an essential for effortlessly stylish outfitting. |
| | | |
| --- | --- | --- |
| | | |
| Merida Flounced Midi Skirt | Nina Relaxed Cargo Pants | Hayden Utility Pants |
| Cute-as-a-button details give this flounced midi skirt a mod twist. | Throw on a pair of slip-on sneakers and a denim jacket to take these comfy cargo pants from stay-at-home to chic-day-out. | These utility trousers feature trapunto stitching at the waist for a layered, oh-so-feminine effect. |
| | | |
| --- | --- | --- |
| | | |
| Sotheby Wide-Leg Pants | Hudson Cargo Joggers | Bobbie Pencil Skirt |
| Tied at the waist, these breezy wide-legs offer an ultra-comfy alternative to your go-to skinnies. | These cargo joggers have a laidback aesthetic you'll love for years to come. | Here, a corporate classic gets an elevated upgrade through a faux-wrap silhouette. Style with a relaxed tee or a slouchy knit to contrast the pencil skirt's feminine fit. |
| | | |
| --- | --- | --- |
| | | |
| Sotheby Wide-Leg Pants | Bernadette Button-Front Midi Skirt | Jamey Knit Wide-Leg Pants |
| Tied at the waist, these breezy wide-legs offer an ultra-comfy alternative to your go-to skinnies. | In a menswear-inspired plaid print, this button-front skirt pairs perfectly with a graphic tee and booties. | Designed for maximum comfort, these knit pants are ideal for the commuter closet. Their compatibility with your favorite pair of sandals or sneakers will eliminate the need for rushed morning outfit changes. |
| | | |
| --- | --- | --- |
| | | |
| Emmett Bib-Front Utility Jumpsuit | Bari Jacquard Joggers | Wide-Leg Trousers |
| With a laidback aesthetic, this utility jumpsuit is a piece you'll love for years to come. | Pair these joggers with a neutral tee and blazer for a classic take on a comfy favorite. | From the strictly corporate to the casual, work-from-home environment, office attire shouldn't lack personality or flair. These wide-leg pants have both to spare - they dissolve the distinction between what you have to wear and what you want to wear, allowing you to focus on meeting deadlines and acing presentations without once worrying about your outfit. |
| | | |
| --- | --- | --- |
| | | |
| Printed Harem Pants | Orana Printed Joggers | Eyelet-Striped Trousers |
| An ultra-comfortable draped fit makes these pants essential for stylish summer lounging. | This boldly printed pair is a surprisingly versatile piece you'll want to wear with everything. | Endlessly on trend, this eyelet-accented pair brings a touch of textural interest to any outfit. |
Go to:
Add French-Luxury to your favorites