Easy Weekend Wear
Easy weekend wear. Relaxed pieces with comfortable style to expand your wardrobe. Go to: Seen Worn Kept, En Saison, Waverly Grey, Conditions Apply, White + Warren, Camis, AMO, Pants, good hYOUman, Varley Activewear, All Fenix

| | | |
| --- | --- | --- |
| | | |
| Amina Blouse | Idah Textured Wrap Blouse | Miley Lace Blouse |
| This blouse features all-over beaded embellishments for plenty of dazzle and shine. | With a textured finish for added flair, this blouse is an ideal topper for weekend adventures and backyard fetes alike. | Add a dash of romantic threadwork to your day with this dainty lace blouse. |
| | | |
| --- | --- | --- |
| | | |
| Judith Eyelet Blouse | Issoire Embroidered Blouse | Kathryn Textured Blouse |
| A romantic staple, eyelet lace lends an effortlessly feminine touch to any ensemble. | Embroidered touches elevate this breezy blouse above the rest, making it a perfect match for slim denim and utilitarian joggers alike. | Embroidered florals lend textural depth - and a hint of whimsy - to this stylish buttondown. |
| | |
| --- | --- |
| | |
| Batia Ribbed Mock NeckTank | Graceann Ruffled Blouse |
| Style this ribbed top with denim or a breezy maxi skirt for an air of carefree sophistication. | With polished pleats and a sweetly ruffled finish, this blouse is an effortless complement to laidback denim and flats. |
In 2010, a New York-based couple combined their passions for style and architecture to design a line of luxury pieces that could seamlessly transition between elegant occasions and the everyday. Today, USA-made Waverly Grey separates are classic and sophisticated with an adventurous twist, maintaining the inspired, forward-thinking aesthetic of the founders' first collection.
| | | |
| --- | --- | --- |
| | | |
| Tadita Surplice Halter Top | Wayf Giselle Cowl-Neck Bodysuit | Luzia Cropped Cami |
| This halter top is an effortless match for slim denim and silky bias skirts alike. | Cowl neck. Adjustable spaghetti straps, sleeveless. Blouson bodice with tonal herringbone pattern. Elasticized waist. Contrast bikini brief. Snap closures at gusset | Embroidered details infuse this top with chic, oh-so-feminine flair - we love pairing it with city shorts and slides for a perfectly picnic-ready ensemble. |
| | | |
| --- | --- | --- |
| | | |
| Shay Ribbed Knit Tank | Kaia Ribbed Tank | Colette Silk Cami |
| Style this ribbed top with wide-leg pants or a breezy maxi for an air of carefree sophistication. | With a ribbed finish, this tank is a layering staple - just add denim, joggers, or your favorite mini skirt. | Whether worn under a polished blazer or with your favorite distressed denim, this silk cami is a flattering, versatile must-have for your wardrobe. |
Named after the Latin word for love, AMO was founded in 2014 by industry veterans Kelly Urban and Misty Zollars, who imbue each LA-made pair with the passion and enthusiasm they feel for denim as a whole. Known for their feminine fits and vintage details, AMO jeans are cut from the finest quality materials and carry the same fearless spirit that inspired the brandís founding. Designed by and for women who want their clothing to work with their figure, style and way of life, each collection features timeless classics with a contemporary edge.
| | | |
| --- | --- | --- |
| | | |
| AMO Luna Relaxed Denim Jumpsuit | AMO Stix Ultra High-Rise Skinny Ankle Jeans | AMO Cora Ultra High-Rise Bootcut Jeans |
| In a timeless rinse, this denim jumpsuit is a laidback essential with style to spare. | A popular look from the 1960s, skinny jeans reemerged in the mid-2000s as a universal trend - and it's no surprise why. At once form-flattering and understated, this tapered silhouette is crafted with stretch, ensuring each pair clings to your curves while promising all-day comfort. | Roomy enough to style with your ankle boots, but not as dramatic as the flare, these bootcut jeans feel sensibly wearable - and eternally chic. |
Boasting a range of everyday luxury pieces stated in custom hues, specialty fibers and lavish textures, White + Warren create innovative cashmere knitwear in both classic and contemporary silhouettes. Their modern approach to creating richly soft essentials have earned them an adoring fan base and a reputation as NYC's connoisseurs of cozy.
Pants and Skirts
| | | |
| --- | --- | --- |
| | | |
| Jennifer Midi Skirt | Roxanna Sueded Mini Skirt | Mason Contrast-Stitch Joggers |
| This sweeping midi skirt lends vibrance and cheer to everyday ensembles. | Equal parts playful and poised, this sueded mini skirt is an instant wardrobe classic - just add a graphic tee and slides for a look that's sure to earn you compliments. | A closet staple, these easygoing joggers feature contrast-stitched seams for a modern twist. |
| | | |
| --- | --- | --- |
| | | |
| Kate Leopard Jacquard Trousers | Diandra Pleated Joggers | Marie Joggers |
| Featuring a trendy leopard motif, these trousers bring a dash of the wild side to a polished silhouette. | Comfy and sweet, these oh-so-sleek joggers offer endless opportunities for style - try pairing them with a graphic tee and sneakers, a smocked bandeau and sandals, or a buttondown and your favorite flats. | For a tailored twist on the classic jogger silhouette, look no further than this pleated pair, where a tapered fit offers both polish and ease. |
| | | |
| --- | --- | --- |
| | | |
| Tesia Ruffled Tulle Midi Skirt | Aniya Joggers | Kalea Trouser Joggers |
| Adorned with tiers of decadently ruffled tulle, this sweeping skirt is sure to make heads turn. | With a vibrant print and a sporty, of-the-moment silhouette, these joggers are designed for both comfort and style. | This tapered pair lends everyday outfitting a tailored twist - just add a cami and flats for a look that's both effortless and chic. |
| | | |
| --- | --- | --- |
| | | |
| Wanderer High-Rise Cargo Pants | Holmes Plaid Tapered Pants | Carey Cropped Wide-Leg Utility Pants |
| Our beloved Wanderer silhouette puts a feminine twist on functional styling, ensuring you're prepared for all of life's adventures. | Featuring menswear-inspired plaid, these trousers offer a slim, flattering fit that suits workdays and weekends alike. | Designed for maximum comfort, this cropped pair is ideal for the commuter closet. Its bicycle-friendly hem and compatibility with your favorite sneakers and loafers will eliminate the need for rushed morning outfit changes. |
| | | |
| --- | --- | --- |
| | | |
| Kallie Joggers | Shimmer Cargo Joggers | Junie Midi Skirt |
| These printed joggers are a staple you'll love to sport in the warmer months - just add a graphic tee and slides for a perfectly picnic-ready ensemble. | With a comfortable fit and touch of shimmer, these cargo pants are an effortless essential. | Perfect for days spent in the sun, this sarong-inspired skirt boasts effortless charm. |
| | | |
| --- | --- | --- |
| | | |
| Klara Utility Mini Skirt | Johana Wide-Leg Utility Pants | Jacquard Utility Joggers |
| Form, meet function: This mini skirt features utility-inspired details for a memorably modern finish. | These breezy wide-legs bring a chic, polished touch to everyday outfitting - just add a knit tank and slides. | Sleek and sophisticated, these jacquard joggers put a modern twist on utility-inspired styling - just add a cami and flats for a polished ensemble. |
| | | |
| --- | --- | --- |
| | | |
| Amaya Utility Shorts | Kennedy Shorts | Mixed-Knit Joggers |
| Style these utilitarian shorts with a fitted top and go-to sandals for an effortlessly chic ensemble. | Breezy and chic, these lightweight shorts are a staple for all your warm-weather adventures. | These carpenter-style joggers have a laidback aesthetic you'll love. |
| | | |
| --- | --- | --- |
| | | |
| Ripley Utility Pants | Emma Cropped Wide-Leg Pants | Sloane Shimmer Joggers |
| With a roomy fit and pockets to spare, these utility pants are a springtime staple - just add a graphic tee and your favorite slides. | A modern essential, these cropped wide-legs effortlessly outfit with everything in your wardrobe - think light-as-air blouses, graphic tees, relaxed buttondowns, and silky camisoles. | Here, the classic jogger silhouette receives a chic and shimmery upgrade - just add a graphic tee and sandals for a comfy-yet-polished ensemble. |
| | | |
| --- | --- | --- |
| | | |
| Lily Cropped Wide-Leg Pants | Wanderer Tie-Dyed Cargo Pants | Wide-Leg Trousers |
| Tailored enough for the workweek yet cool enough for weekend wear, these cropped wide-legs feature contrast stitching for a wink of whimsy. | These tie-dyed cargo pants are a statement-making essential - with pockets to spare. | From the strictly corporate to the casual, work-from-home environment, office attire shouldn't lack personality or flair. These wide-leg pants have both to spare |
In 2011, Brett Novek started good hYOUman to honor his late father and to inspire others to live their best day, every day. With the slogan "The real story starts with you," the designers adorn each piece with lighthearted, motivational sayings that spread positivity. Every season the brand spotlights an amazing "hYOUman" on the back of each garment's tag, making the comfortable pieces that much more special and joyful to wear.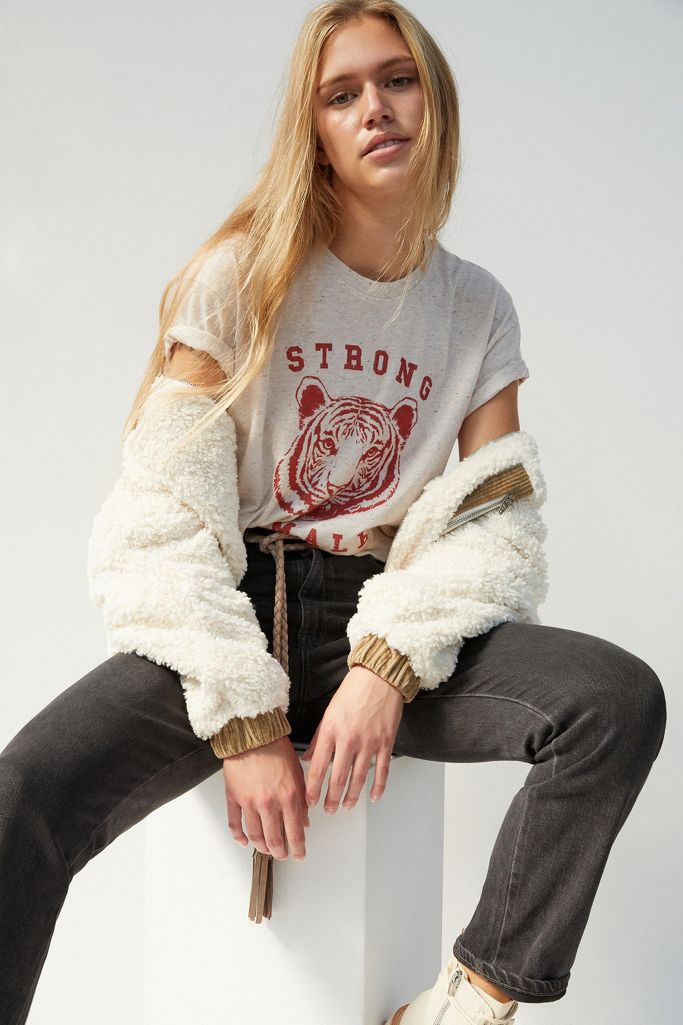 Strong Female Graphic Tee
The graphic tee is a quintessential layering option for any closet. Pair it with denim, wear it under a blazer, or even tuck it into your favorite midi skirt - it looks effortlessly cool no matter how you style it.
With headquarters in both London and Los Angeles, Varley blends the former's metropolitan sophistication with the latter's fitness-focused lifestyle to create performance-enhancing, fashion-forward activewear. Each flattering silhouette is made using advanced quick-drying, sweat-wicking technology, so it's ideal for errands, the gym or vacation.
From humble beginnings in Melbourne, Australia, All Fenix has grown into an internationally-recognized activewear label, catering to style-conscious women on the go. All Fenix strives to develop durable, performance-focused apparel and accessories with an emphasis on comfort, ventilation, and dynamic fits.
Go to:
Add French-Luxury to your favorites