Easy Weekend Wear
Easy weekend wear. Relaxed pieces with comfortable style to expand your wardrobe. Go to: Mes Demoiselles, Vineet Bahl, Moth, Faithfull, Muche et Muchette, Left of Center, Bordeaux, Porridge Clothing
Anita Radovanovic launched Mes Demoiselles in 2006. With a nod to times past, each dreamy, bohemian piece begins as a painting in her Parisian studio.
Metallic Silk Peplum Top
Carmen Silk Skirt
Daramone Metallic Skirt
Skipper Striped Pullover
With a metallic finish and flattering peplum silhouette, this silk blouse makes an eye-catching topper for pencil skirts and fitted trousers alike. A ruffled silk skirt with dramatic length has an innate romance - tuck in a cami and add sandals for a boho-chic style.
Twirling is encouraged in this skirt - with a metallic finish that catches the light, it makes a dazzling statement piece for any occasion.
Layer this sheer top over a cami and distressed Bermuda shorts for the perfect beach day style.
Free from defined structures or industry-based trends, Vineet Bahl designs are unconventionally beautiful. Woven by hand - never out of a mold - each design has been artfully crafted with the closest attention to style and detail. Embellished with textural elements, each garment and accessory celebrates an evolved sense of style with a fluid, easy construction.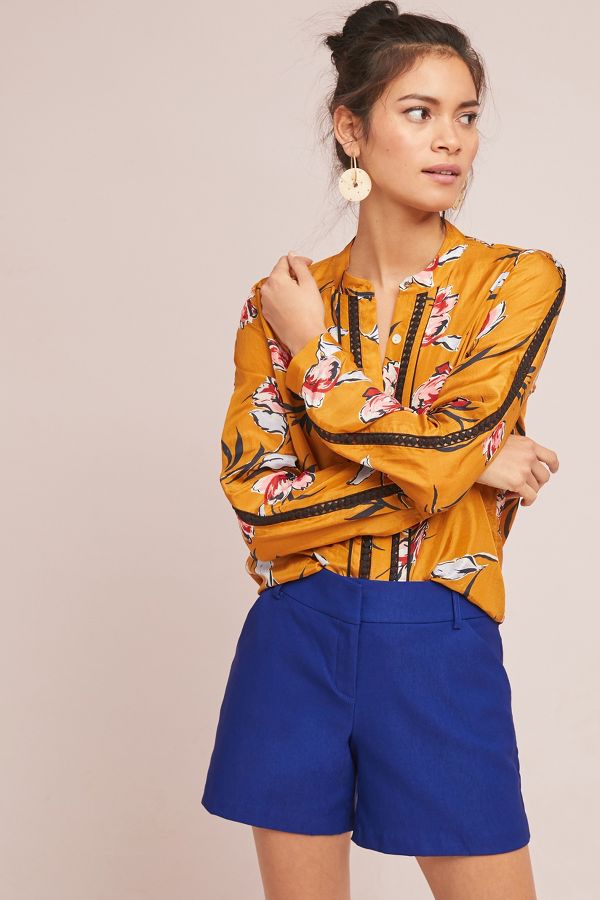 Catriona Silk Buttondown
Whether paired with your favorite denim or an a-line skirt, this silk number makes a bold statement.
Lifelong best friends Muriel B. and Muriel Z. moved from Paris to Miami in the '90s; two decades later, they launched Muche et Muchette. Based on a free-flowing, one-size-fits-most approach to dressing, their boho-chic, carefree line inspires wearers to be confident in their own skin.
| | | |
| --- | --- | --- |
| | | |
| Julianna Gauze Kimono | Cynthia Long Kimono | Paradise Striped Kimono |
| Your next warm-weather getaway calls for this gauzy kimono, which drapes over your favorite swimsuit or outfit for added allure. | There is endless style in simplicity, as evidenced by this free-flowing kimono, which transitions from a beach cover-up to a boho-chic topper with ease. | Lightweight cotton sweeps effortlessly over your favorite pair of denim - or figure-flattering skirt - for a welcomed, boho-chic addition on a balmy day. |
Designed with the modern traveler in mind, Faithfull pieces are feminine, flattering and versatile enough for wanderlust-fueled adventuring. Prints are inspired by vintage textiles and antique markets from across the world and each earth-toned garment is carefully produced using artisan techniques in Bali, Indonesia.
Clean and linear, Moth is known for transforming current trends into wearable sweater silhouettes. Moth relies on simple yarns and pure shapes to make a statement, and in turn appeals to women who want a feminine look without any fussiness.
| | | |
| --- | --- | --- |
| | | |
| Colorblock Sweater Tank | Miami Stitched Pullover | Mixed-Stitch Cardigan |
| Cotton, nylon, rayon | Our favorite way to wear knitwear well into summer? Top a pleated skirt or distressed denim with a short-sleeved version of your favorite sweater – the contrast in fabrication is effortlessly chic. | Showcasing a handful of knitting techniques, this open-closure beauty is an essential layer for slightly chilly summer nights. |
| | | |
| --- | --- | --- |
| | | |
| Sharona Crocheted Cardigan | Annabel Knit Cardigan | Crocheted Pullover |
| Embrace warming temperatures in open weaves like this cardigan - the crocheted back has a '70s-inspired look that never goes out of style. | This open-knit cardigan makes an ideal transitional piece - layer over buttondowns now and camis when the temperatures start to rise. | It's all about mixing and matching when it comes to crochet - contrast this pullover with an edgy leather pencil skirt or strappy sandals. |
| | | |
| --- | --- | --- |
| | | |
| Cropped Ballet Wrap Top | Ribbed Sweater Tee | Loren Sweater Tank |
| A slim wrap-front knit has the sprightly feel of ballet studio style. Top over a skater-style mini dress for a delicate daytime look. | This fitted top balances a dramatic wide-leg or your favorite flared denim for a figure-flattering look. | This sleeveless knit delivers a classic elegance to any look - try styling on its own with denim, or layer over a soft flannel or crisp buttondown. |
| | | |
| --- | --- | --- |
| | | |
| Pleated Metallic Jumpsuit | Helena Eyelet Top | Visage Printed Skirt |
| Simply add heels and clutch - this party-ready metallic jumpsuit is a look that speaks for itself. | Rayon, viscose, polyester. Eyelet bib | From a distance, this skirt's monochromatic motif registers as a near-neutral. However, a closer look reveals an unexpectedly whimsical, all-over face print that is sure to surprise and delight. |
| | |
| --- | --- |
| | |
| Edie Knit Blazer | Weekend Ribbed Jacket |
| For a more laid-back approach, try styling this knit blazer over a slip dress, or opt for a cami and jeans. | Swap out your blazer for this ribbed jacket for a more casual style. |
Go to:
Add French-Luxury to your favorites