Wine Storage and Decanters

GG Collection Metal Acanthus Leaf Wine Rack
Handcrafted metal wine rack. Holds eight glasses and four wine bottles.

Zadie Wine Rack
This glittering wine rack is a glamorous way to showcase cherished bottles of red and white.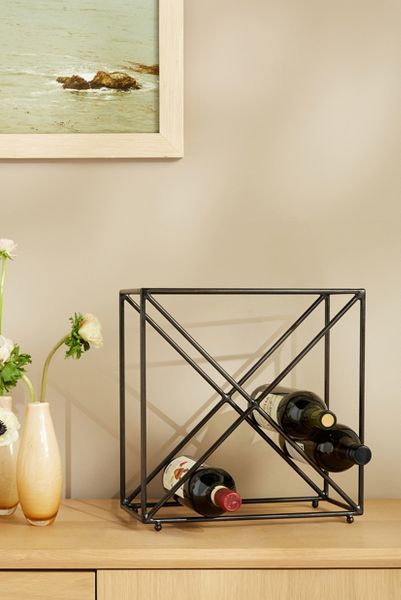 Barbossa Wine Rack
This wine rack doubles as a beautiful display piece for holding bottles of red, white, and everything in-between.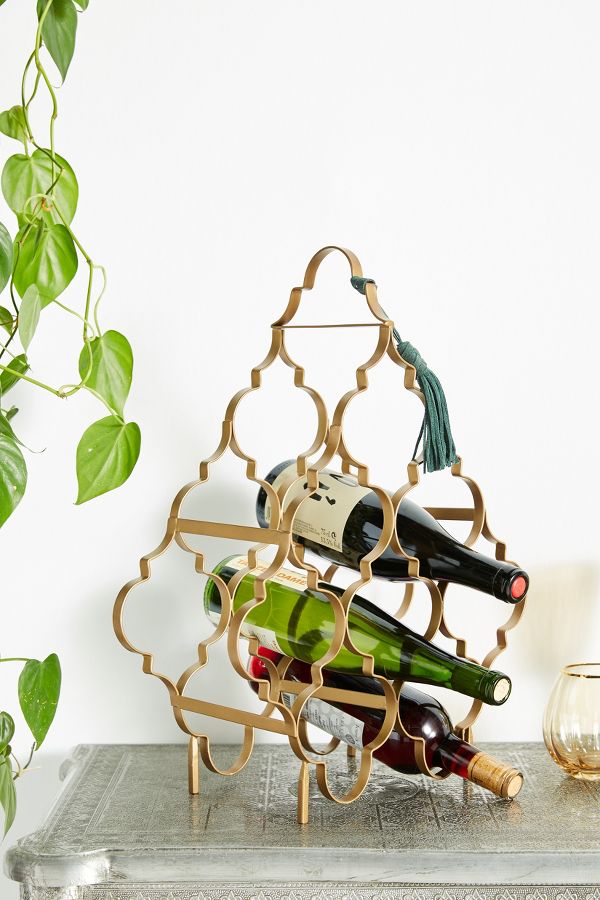 Reid Wine Rack
This decorative and functional wine rack is a glamorous way to showcase cherished bottles of red and white.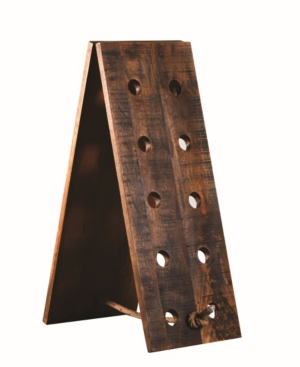 Villa2 Solid Semi Rough Wood Standalone 10 Standard Wine Bottle Standalone Wine Rack with Unique Rope Holder
The standalone solid mango wood in lacquered finish with gray accent undertone. The wine is foldable and come with beautiful unique rope for holding wood panels and increase the aesthetics. The wine rack can hold up to 6 standard size wine bottles.

Villa2 Solid Semi Rough Wood Standalone 6 Standard Wine Bottle Standalone Wine Rack with Unique Rope Holder
The standalone solid mango wood in lacquered finish with gray accent undertone. The wine is foldable and come with unique rope for holding the wood panels and increase the aesthetics. The wine rack can hold up to 10 standard size wine bottles.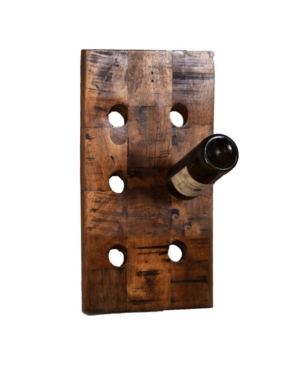 Villa2 Wine O 6 Standard Wine Bottle Rack in Vertical Orientation Finished in Rich Look
Wine O 6 bottle wine rack is finished in rich look finish with gray accent undertone. The wine rack comes with mechanism to wall mount. The wine rack can hold up to 6 standard size wine bottles.

Mainly Baskets Cottage Two Bottle Carrier Basket
Handcrafted wine carrier basket holds two bottles. Made of woven rattan. For indoor use only.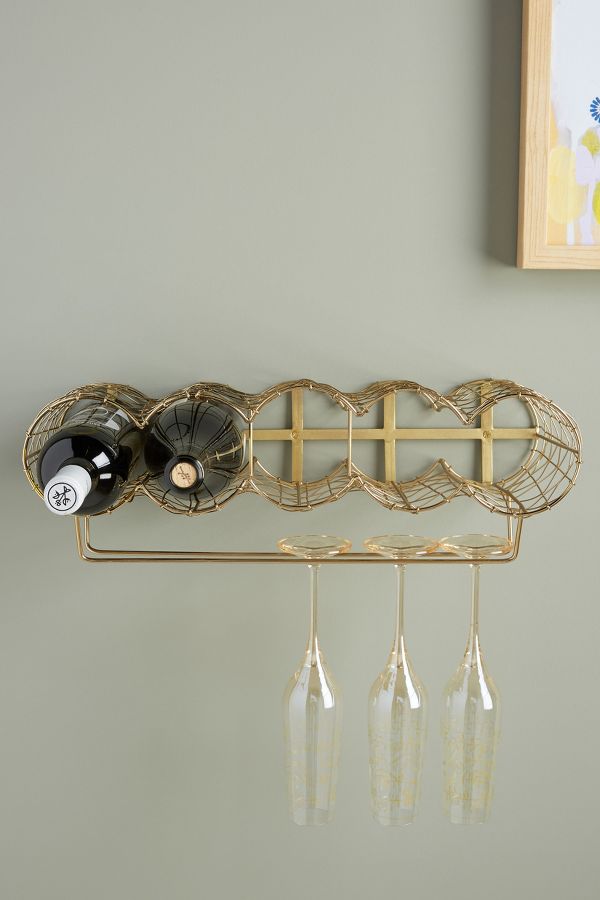 Claudia Wine Rack
Handmade from finely-wrought iron, this exquisite piece offers a rustic yet romantic appeal for your wine display.

G G Collection Metal Acanthus Leaf Three-Bottle Wine Holder
Handcrafted metal wine bottle holder. Holds three wine bottles.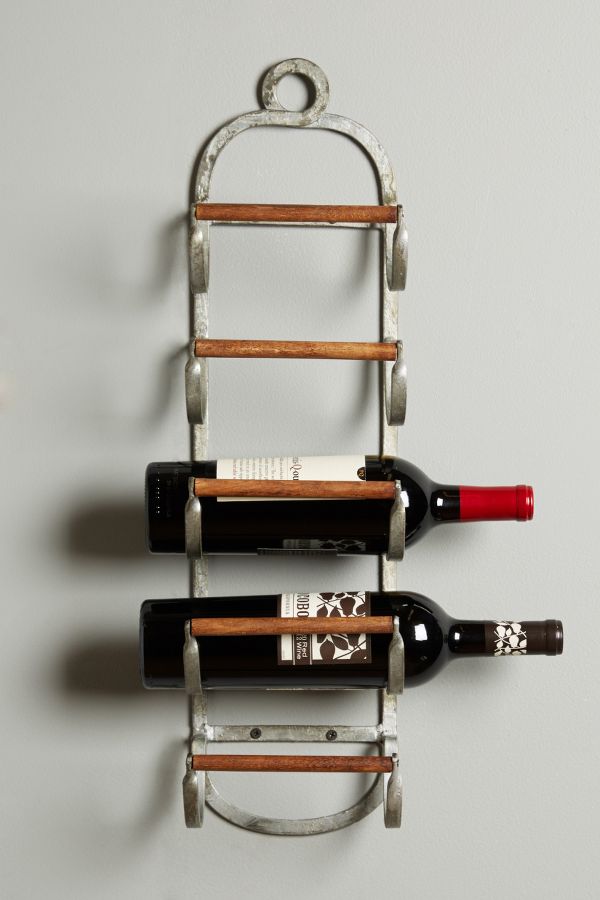 Tack Storage Wine Rack
Handmade. Zinc, iron, mango wood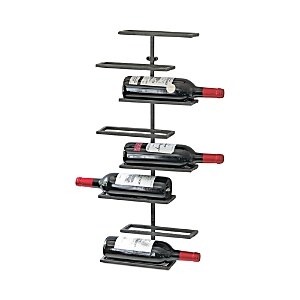 Wine Enthusiast 8 Bottle Wall Rack
Contemporary and convenient, this handcrafted eight bottle wine rack is designed like a wall sculpture to hang behind the bar, above the counter or in multiples in the pantry.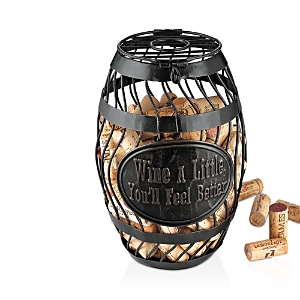 Wine Enthusiast Cork Catcher
An invitation to memories of great bottles and good company, this cork catch-all features a whimsical central cartouche that reads 'Wine a Little. You'll Feel Better'. The vintage design is beautifully handcrafted in metal with an antiqued bronze finish.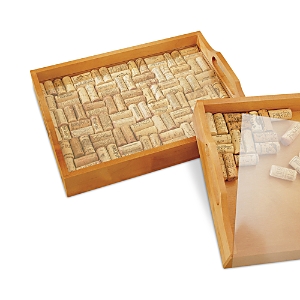 Wine Enthusiast Cork Serving Tray
Give your entertaining decor a personal touch with a toast-worthy task. A charming way to display corks from your favorite and most memorable bottles of wine, this mahogany wood tray offers space to arrange 108 corks. A removable plexiglass cover offers an ideal surface for cocktail hour.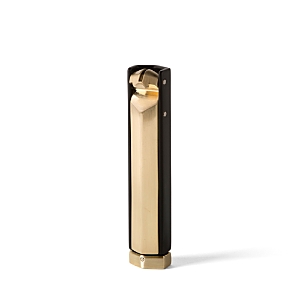 Rabbit Waiter Corkscrew
Retractable foil cutter

Mainly Baskets French Country Winery Wall Basket
Handcrafted winery wall basket. Made of woven rattan.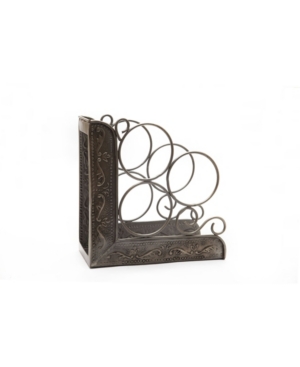 Old Dutch International Antique Embossed "Victoria" 3 Bottle Wine Rack Bookend
This 3 bottle wine rack bookend is a perfect accent for wine lovers. It adds style and elegance to any counter. A great present for the holidays or any special occasion.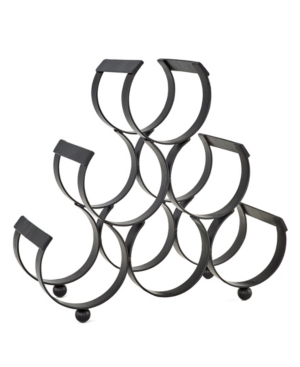 Old Dutch International 6 Bottle Iron Wine Rack, Matte Black
Store up to six bottles of your favorite wine in this beautifully tiered rack. Due to the design of this rack, wine bottle are stored horizontally, to keep the corks moist. This ensures your wine to stay fresh for a longer period of time.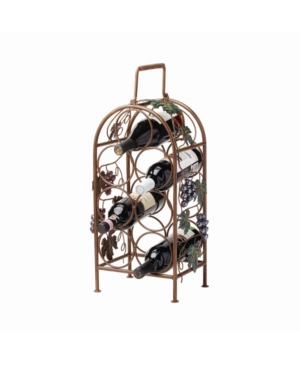 Twine Grapevine 7 Bottle Wine Rack
Sturdy wrought iron construction holds your bottles at the optimal storage angle while glass grapes and painted details give your wine a fresh-from-the-vineyard feel.
acerbe/astringent: tart
acrid: pronounced acidity
amertume: bitter
apéritif: appetizer
Appelation d'Origine or Appelation Controle: label term signifying origin and legal right to the name
assertive: upfront, bold
balanced: fruit, acid, wood flavors in the right proportion
bouquet/nose: aroma; sève/palate--flavor and body
Brandy click for a selection of Cognac and Armagnac plus glossary of terms
buttery: flavor and mouth feel, usually Chardonnay
chambrer: bringing reds to room temperature (65-68) gradually
Champagne click for glossary and wine from this region
charnu/ full bodied, big, rich, fills the mouth; léger/light: thin
chateau-bottled: usually Bordeaux, bottled on estate where the grapes are grown
chewy: rich, heavy, tannic, full-bodied
goût/taste: bon goût--good taste; goût de bois-- woody taste; de bouchon--corky ( from diseased cork even in fine wines); d'évent--flat from contact with air; de pierre à fusil/flinty--found in Chablis; de pique--vinegary; de terroir--earthy, usually reds
heady: smell of high alcohol content
legs: viscous droplets that form on sides of the glass when wine is swirled
mou/flabby: lacking in character; mouillé--watered
musty: moldy, unpleasant smell
oxidized: stale, "off,"--too much contact with air
pourriture noble/noble rot: over-ripe grapes making very sweet Sauternes
robust: full-bodied, intense, vigorous
sediment: natural deposits. Decanting-- transferring to decanter for serving.
tannin: acid found especially in reds necessary for aging (dry sensation)
tasting tip: light to fuller bodied, whites before reds, dry to sweet
toasty/oaky: hint of wooden barrel, usually dry whites
usé: passed its peak
velouté/velvety: rich flavor, silky texture
verte/green: usually too young to drink
vin/wine: naturally fermented juice from pressed grapes. du pays: regional wines drunk locally; de goutte: last pressing, poor quality; de garde: worth aging; cuit: concentrated, added to improve other wines; doux: sweet; mousseux: sparkling; ordinaire: table wine; sec: dry
vintage wines: dated bottle, entirely from one harvest only in the best years
color: from contact with pigment found on grape skin: none, white; limited, rosé, extended, red
Confréries: ancient wine fraternities
coupé/blended: similar wines married for uniform quality; cuvée--the blend
corps/body--richness in alcohol, flavor
corsé: full bodied
crisp: fresh, young
cru: growth or vineyard
complex: all flavor components in harmony
coulant/attractive: easy to drink
délicat/delicate: light- weight with nice flavor
depth: subtle, complex, concentrated layers of flavor; thin lacks body and depth
domaine: followed by a name indicates ownership
élégance/elegant: grace, balance but not longevity
fading: losing color, fruit or flavor
finish/aftertaste: taste remaining after swallowing. Long, lingering finish indicates good quality; short: not remaining on the palate
flat: low acidity or sparkling wine that has lost its bubbles
fruité/Fruity: body, richness with some sweetness-- apples, berries or herbs
There are four main classifications of wine:
Natural still wines
Alcoholic content 14% or less. Improve after bottling. The main wine grape growing areas are Alsace (fine white), Loire (moderately priced reds and whites), southern France (inexpensive table wines), the Rhône (wines that match with strongly flavored foods) and, of course, Bordeaux and Burgundy (arguably the best wines in the world).
Sparkling
Fortified
Alcohol increased by adding brandy. Best known types not made in France. Alcoholic content 16 to 23%.
Aromatized
Vermouth. Alcoholic content 15 1/2 to 20%.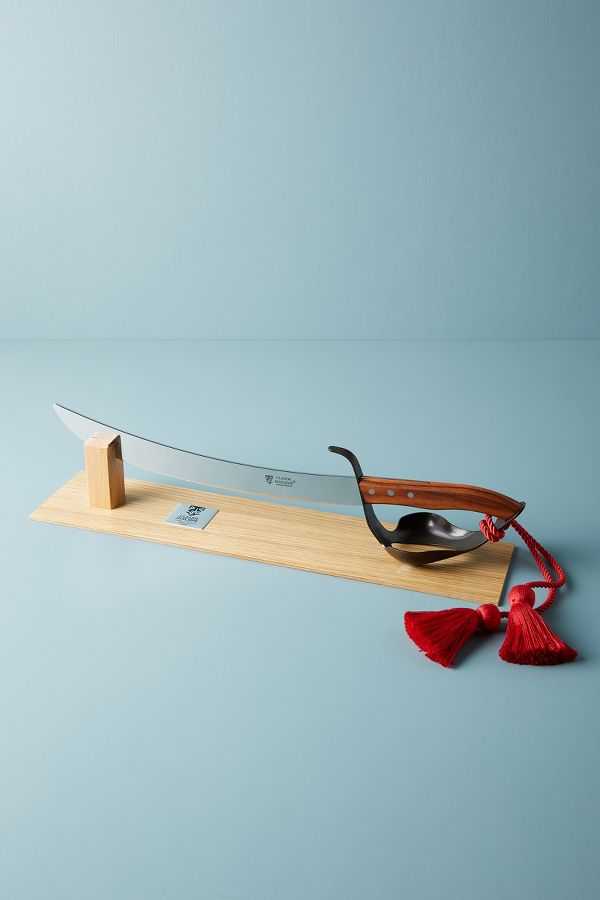 Claude Dozorme Champagne Sabre
In the age of Napoleon Bonaparte, cavalry officers would use their sabres to open champagne as part of their victory celebration. To bring this tradition into the modern age, renowned French knife-maker Claude Dozorme created this elegant tool, which comes with a booklet describing "The Art of Sabering Champagne." It's a novel, prestige gift that brings extra elegance to your social occasions - and will be a family treasure for generations to come .

Wine Charms, 6-Piece Set
Wine charms made of zinc and glass. Set includes one of each design shown.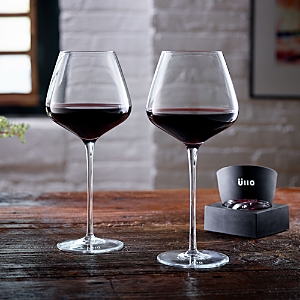 Ullo Wine Purifier + 2x Angstrom Wine Glasses
Revolutionary wine purifier restores the natural taste of wine with Selective Sulfite Capture™ filter technology. Aerates and filters by the glass or by the bottle. Wine glasses have an ultra wide profile designed to fully expose a wine's aroma profile

Beehive Wine Stopper and Stand
Handcrafted wine stopper includes coordinating stand. Decorative elements in metal with 14-karat gold finish. Hand enameled and handset with Swarovski® crystals. Stainless steel and rubber stopper. Hand-painted design.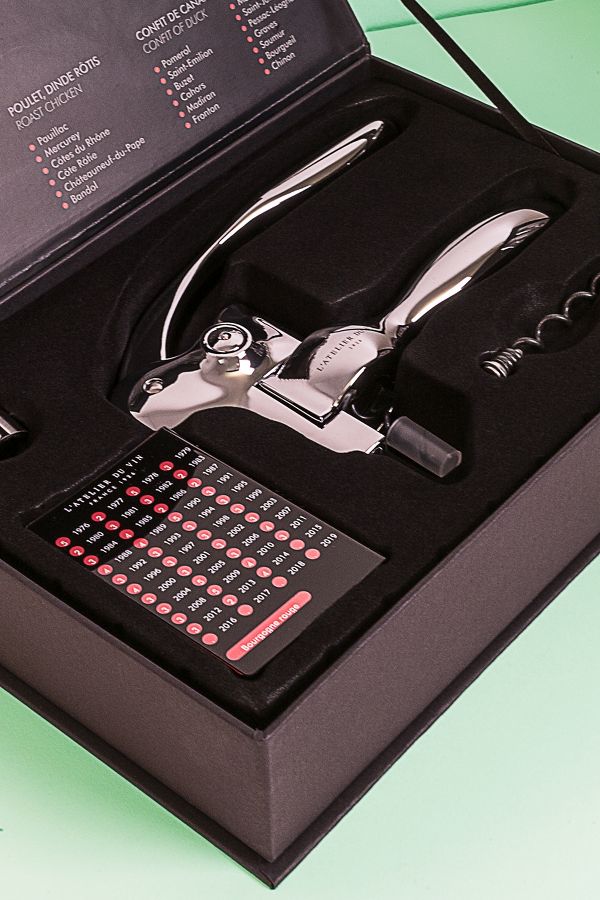 L'Atelier du Vin Oeno Sommelier Gift Box
Skillfully uncork wine with this sommelier set, which includes a chromed metal lever corkscrew and an innovative wine ring that clips onto the neck of the bottle to collect any errant drops. An excellent gift or addition to your own wine collection, it comes complete with a pocket guide for vintages, and a printed guide that helps you craft perfect pairings with food.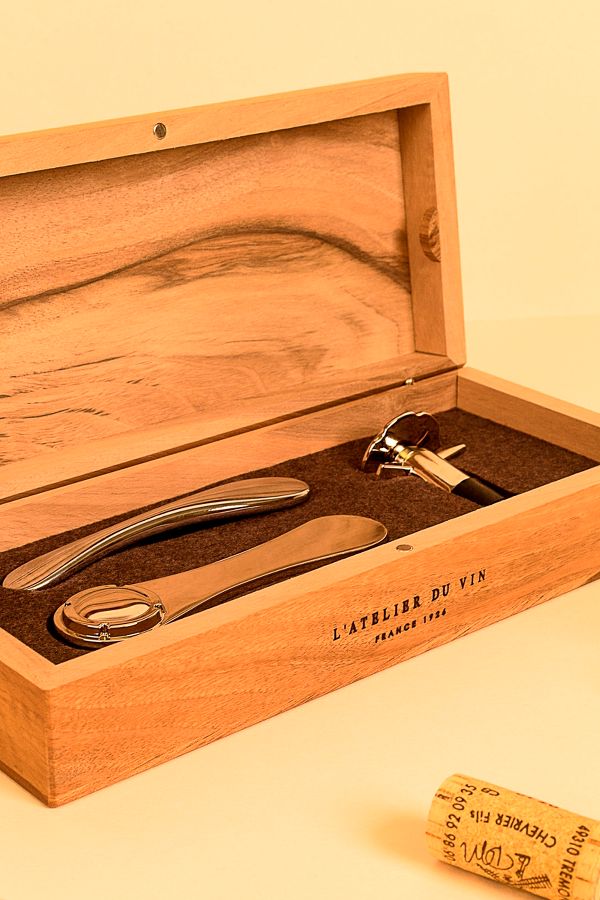 L'Atelier du Vin Wine Essentials Mini Gift Box
Perfect as a gift or for your own use, this slim walnut box holds elegant essentials for the enjoyment of wine. It includes an ergonomic sommelier corkscrew, an easy-to-use cork opener for champagne and sparkling wines, and a universal cork that maintains the aroma and bubbles of unfinished wines. It comes complete with a printed folio featuring a map of all the major French wine regions, as well as space for your wine tasting notes.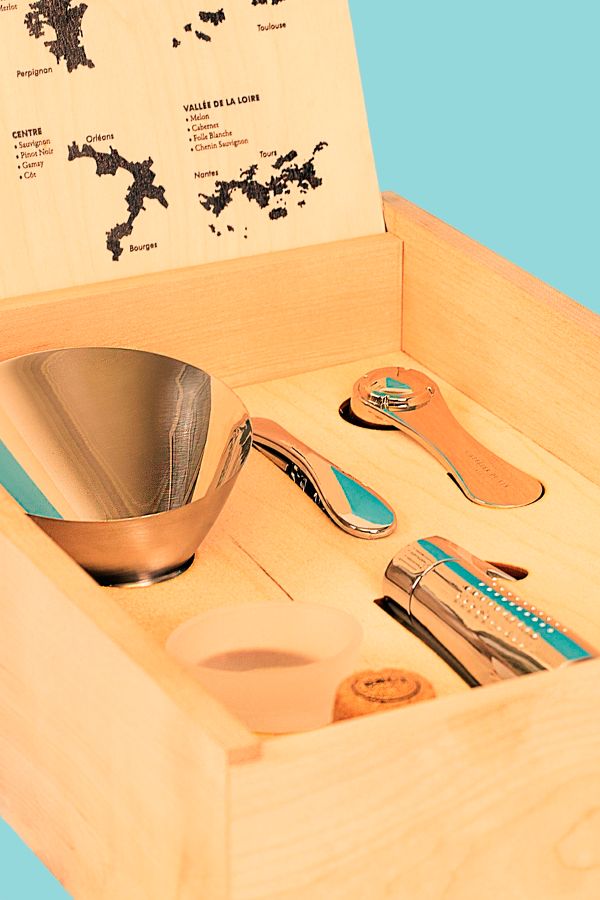 L'Atelier du Vin Oeno Connoisseur Gift Box
Housed in an elegant wooden gift box, this set includes six wine tools handmade in France and intended for the true connoisseur. It includes a cork opener and a chromed metal sommelier corkscrew to open any bottle, and a bubble cork to preserve the effervescence of opened champagne and sparkling wines. The Developer Universel is a wine aerator for both glasses and carafes that gently oxygenates and fully releases a wine's flavors. The Gard'vin is a unique, innovative piece that stops the oxidation of still wines and comes complete with two on/off stoppers.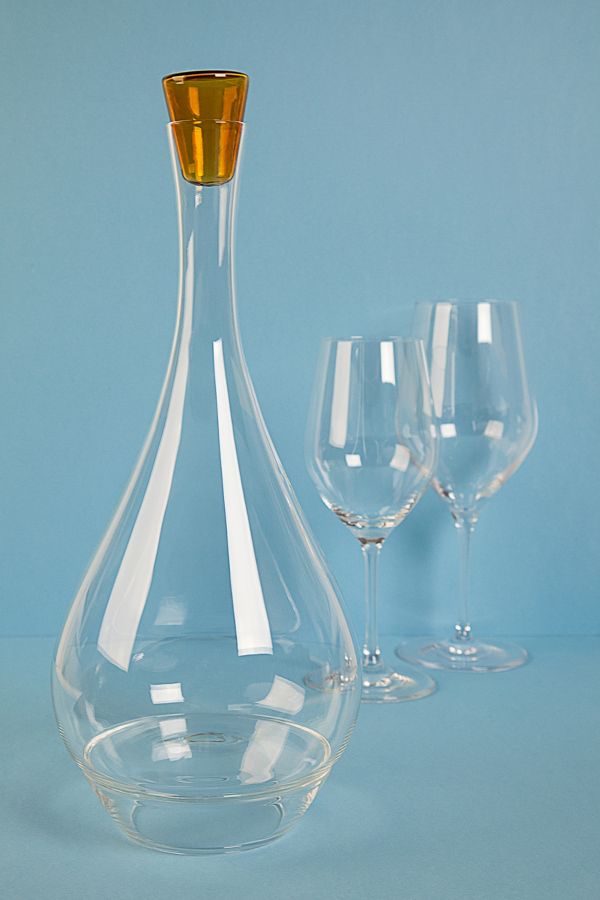 L'Atelier du Vin Round Perched Wine Carafe
An ideal gift for any wine connoisseur, this glass-blown carafe honors and magnifies the flavor profiles of both red and white wines. Its modern design features a transparent podium and a hollow base that allows a comfortable grip for effortless pouring.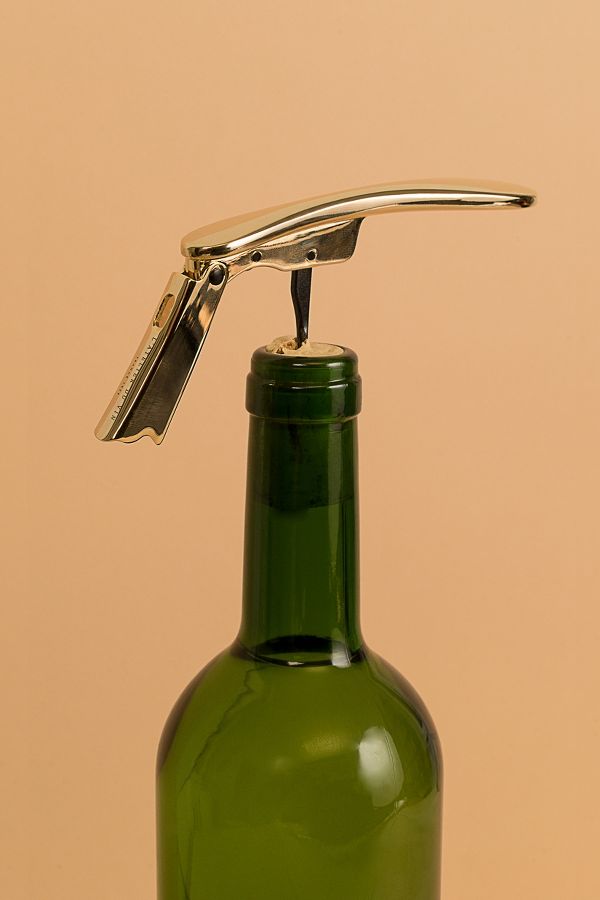 L'Atelier du Vin Golden Boy Corkscrew
Designed in Paris, France, this iconic sommelier's corkscrew is plated in 18-karat gold for a luxurious touch. Its curved design is both stylishly sleek and ergonomic – it's the perfect tool to have on hand at your dinner table or a picnic.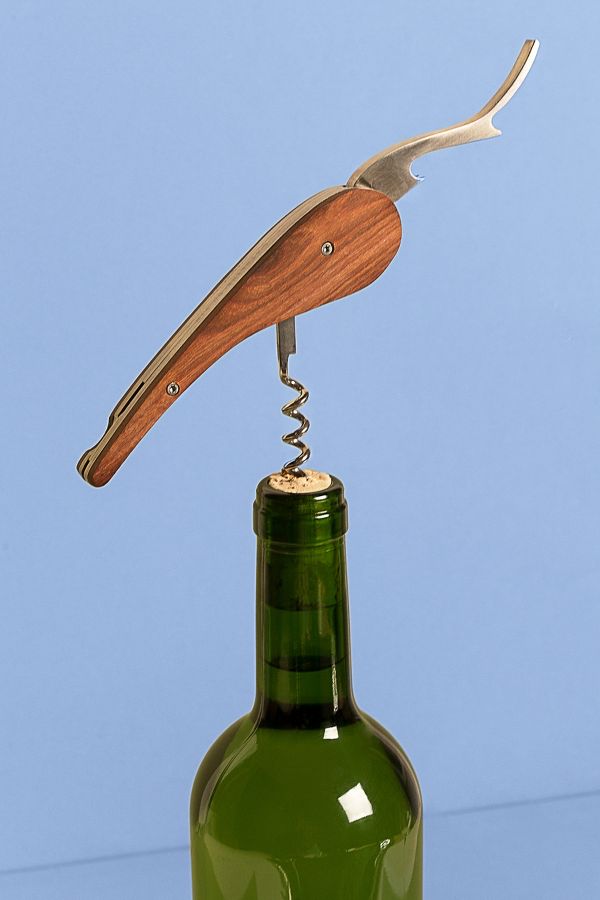 L'Atelier du Vin Soft Machine Corkscrew Gift Box
Designed with a unique gear system, this corkscrew extracts the cork vertically in a single fluid move without any torsion, minimizing any damage to the cork. It's handcrafted using rosewood and solid stainless steel, complete with a foil-cutting blade and a bottle opener.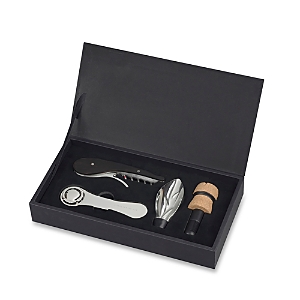 L'Atelier du Vin Oeno Collection 1 Set
Six-piece set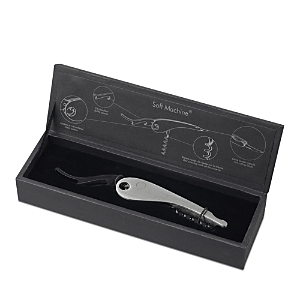 L'Atelier du Vin Soft Machine Pure Cork Extractor
Cork extractor. Assembled and finished by hand.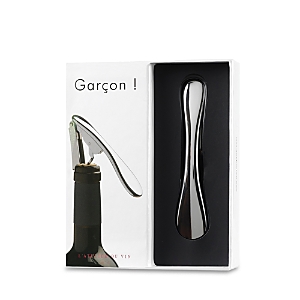 L'Atelier du Vin Garcon Chromed Metal Bottle Opener
Chromed metal
Wine Chillers and Coasters

GG Collection Heritage Wine Chiller
Handcrafted wine chiller. Made of natural mango wood with metal inlay. Hand finished.

GG Collection Wine Bottle Holder & Stopper
Bottle holder and stopper made of cast aluminum.

Star Home Designs Bumble Bee Wine Bottle Holder
Wine bottle holder. Nickel-plated aluminum.

Certified International Gilded Wine Wine Cooler
Enjoy beautiful golden colors shining off the warm Old-World wine and grape still life paintings by Susan Winget for Certified International's Gilded Wine ceramic collection. This Wine Cooler will complete your adventure to the hills of Tuscany while entertaining your family and friends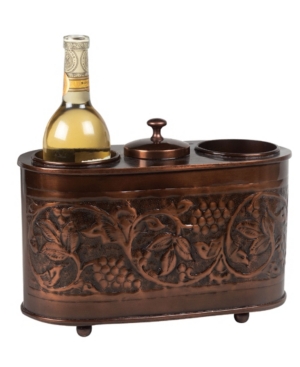 Old Dutch International Antique Embossed Heritage 2 Bottle Wine Chiller
This 2 bottle wine chiller by old dutch is the ultimate tool for entertaining in style. This functional work of art features a handcrafted grapevine design and is finished in a warm, antique copper finish. It holds and chills two bottles and has a convenient lid to keep ice protected from the elements.

Le Cadeaux Wine Coaster & Corkscrew Set
Two-piece set includes melamine wine bottle coaster and wooden corkscrew.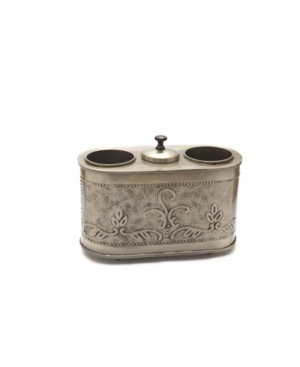 Old Dutch International Antique Embossed Victoria 2 Bottle Wine Chiller
This 2 bottle wine chiller is a perfect accent for wine lovers. It adds style and elegance to any counter. A great present for the holidays or any special occasion.

Jonathan Adler Marseilles Coaster Set
A black and gold play on French fifties faces. Handcrafted of high-fired porcelain with gilt details. Hand-painted finish.

Jonathan Adler Versailles Coasters, 4-Piece Set
Coasters made of high-fired porcelain. Gilded accents. Set includes one of each design shown.

Joanna Buchanan Bee Coasters, Set of 4
Coasters made of glass beads on cotton backing.


Christofle Vertigo Bottle Coaster
Silver-plated bottle coaster. Designed by Andree Putman. Approximately 6"Dia. Made in France.

Baccarat MILLE NUITS WINE COASTER
Made in France

Baccarat Oenology Wine Decanter
Clear full-lead crystal. Handcrafted in France.

Baccarat "Mille Nuits" Wine Decanter
From the Baccarat® Mille Nuits Collection. Handcrafted of full-lead crystal. Holds 26.5 ounces. 14.875"T. Hand wash. Made in France.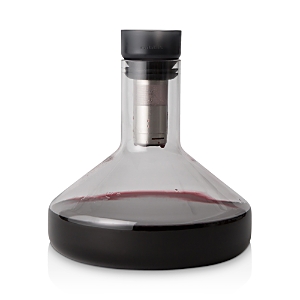 Rabbit Pura Decanter
Aerate and filter wine without removing stopper. Pour into decanter to aerate wine. Pour out of decanter to filter wine

Lalique Double Fish Decanter, Clear
Designed to highlight the flavors of the finest spirits, the Double Fish Decanter enriches the fleet of Lalique decanters to satisfy the desires of connoisseurs and discerning collectors. Highlighted by satin-finished crystal, a couple of Koi fish symbolize richness and perseverance; gushing from water to adorn the stopper. Made from crystal of the finest quality, this decanter opens the doors to a universe of everyday luxury living.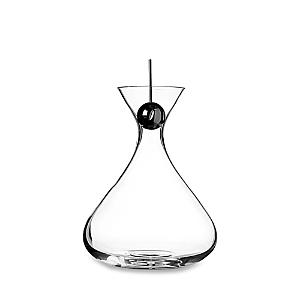 L'Atelier du Vin Open Cristal Developer Carafe
Open carafe decanting design

Celestial Wine Charms, Set of 6
Mark your glass with our fabulous wine charms. Such a wonderful hostess gift—they are sure to be well used!