Gifts for Him

Gucci Bee Money Clip
Sterling silver metal money clip from Gucci. Three-dimensional bee. Made in Italy.

Navy Monogrammed Duffel
Duffel made of cotton canvas. Polyester lining. Faux-suede trim; leather handles. Personalization is three initials in style and color shown.

Laguiole Woodcock Bolster Knife
The Laguiole knife is an enduring classic, popular with sportsman, farmers, and gentlemen for its slim, sinuous outline, a narrow, tapered blade, and high-quality construction. Ours was made in France, in the heart of the famous knife-making region of Laguiole. Traditionally, a bee is depicted on the bolster. However, we have chosen to celebrate the sport of bird hunting. A woodcock in flight adorns the handle, crafted in delicate marquetry.

Dior Beauty Sauvage Eau de Toilette, 2.0 oz.
A radically fresh composition, dictated by a name that has the ring of a manifesto. That was the way François Demachy, Dior Perfumer-Creator, wanted it: raw and noble all at once.

Le Saint Bernard Stag Knife
The Saint Bernard is a legendary mountain dog, originally used to guard the grounds of Switzerland's Hospice Saint Bernard and to help find and save lost and injured travelers. In that spirit, this knife boasts a traditional Alpine shape and features a precision mechanism with smooth opening and a secure locking blade. A staghorn handle and Savoy decor around the central pin of the handle continue the classic Alpine style. France

Waterford Crystal 4" Fleur-de-Lis Paperweight
From Waterford Crystal, this grand paperweight is perfect to catch the light with it's intricate cuts on a shelf this Fleur-de-Lis is a great giftable or collectible. Crafted from crystal

Classic Pique Polo, Navy
The polo is a ubiquitous menswear style, but no one does it like Lacoste. After all, tennis champion Rene Lacoste invented the style, inspired by his desire for a more comfortable shirt to wear during matches. This edition of the Lacoste polo comes in classic pique cotton and sports a discreet signature crocodile.

French Tin with Round Shortbread Cookies
Six freshness bags of two round shortbread cookies each; total of 12 cookies. Tin decorated with four different scenes of France and wrapped with a red ribbon. France

Magisso Champagne Chalkboard Cooler
Enjoy your drinks cool by the pool or at a perfect dinner with this champagne bucket from Magisso.

Assorted Parisian Macarons
Made in the classic French tradition. Two petite cookies are sandwiched together with a flavored filling. Delicate light-as-air macarons come in six flavors: Lemon, Raspberry, Vanilla, Chocolate, Coffee, and Pistachio.

Le Chamois Folder
Named after the Chamois, a goat-antelope species native to the high mountains of Europe, this knife boasts a 12C27 steel blade with hand file work on the spring, making each piece unique. Crafted by Gilles Steinberg, whose business specializing in French pocket knives has a worldwide audience familiar with the intricacies of material choice and workmanship.

Guerlain Bois des Indes Candle
A spellbinding journey through the sacred history of India. Clouds of smoky woods and wafts of offerings intertwine. The sweetness of sandalwood swirls together with the scents of dried bark and spice-laden soil. Along the river, a feeling of peace settles in.

Nest Fragrances Cedar Leaf & Lavender Diffuser
Rejuvenate your space with NEST Fragrances' soothing Cedar Leaf & Lavender scent, featuring notes of rosemary, lavender and sage enhanced with cedar leaves and eucalyptus.

Baccarat Rouge Scented Candle Refill
Scented candle refill; votive holder not included. Scent: top note: blood orange; middle notes: saffron and white oak moss; bottom notes: gray amber and clary sage
Gifts for the Home

MarieBelle Chocolate Easter Eggs, Set of 3
A delectable trio of chocolate Easter eggs in a pretty gift box. One each of milk, dark, and white chocolate.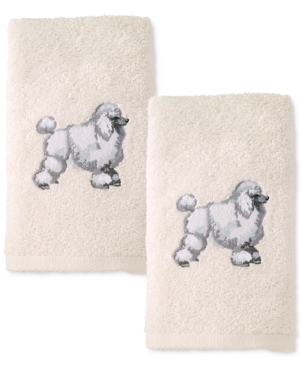 Avanti Dog 2-Pc. Cotton Hand Towel Set
Perfect for a pet-lover, the Avanti Dog set of two hand towels features welcoming canine designs on plush cotton terry.

Assouline Publishing Veuve Clicquot Book
Veuve Clicquot by French journalist Sixtine Dubly and French photographer Laziz Hamani. Regarded as the grand dame of champagne, Veuve Clicquot Ponsardin created not only rosé champagne in 1775 but also the revolutionary technique of riddling. Today, the champagne house that still bears her name has come to represent a complete luxe lifestyle.

Rosy Rings Anjou Pear 5 Candle
Filled with real fruit and spices, this candle blends crisp D'anjou pears, apples and golden plums with a warm mix of vanilla and tonka bean. Cinnamon and nutmeg softly chime in as the candle burns down and exposes the encased botanicals.

Baccarat Mosaique Tumblers, 6-Piece Set
Handcrafted tumblers. Made of lead crystal using traditional glassblowing techniques. Set includes one of each color shown. Each, 3.875"T; holds 7.4 ounces. Hand wash. Made in France.

Mary Jurek Melitta Honey Pot with Bee
18/8 stainless steel with lacquered bass bee.

Baccarat Cafe Baccarat
The audacious mix and match of the red plexiglass tray and a duo of clear crystal glasses make Cafe Baccarat an unforgettable experience.

The French Farm Gardener Salt Box
Give veggies, sauces, meats and more an inspired touch of seasoning with this aromatic combination of herbs and salt. Made in France

Gamebird Decanter Set
Wingshooting and fine whiskey go hand in hand, though preferably not at the same time. Made of pure crystal-with quail, pheasant, grouse, and woodcock engravings-this elegant whiskey decanter will house your spirits while you work the dogs. The set includes four glass tumblers, each emblazoned with a different bird. Decanter from Poland, glasses from France.

Mary Jurek Melitta Candle Snuffer with Bee
Stainless steel and brass candle snuffer.

Patisserie At Home
This French pastry tome is required reading for Francophiles and cooks alike. Patissiere Melanie Dupuis and molecular gastronomist Anne Castor join together to demystify the art of French baking in this science-meets-sweets cookbook.

Fatboy Inflatable Poodle
Inflatable poodle made of high-quality PVC. Has weighted feet for extra stability.

ANNA New York by RabLabs Kiva 3-Piece Cheese Set
Handcrafted cheese knives and spreader. Polished agate with 24-kt. electroplated gold rims and stainless steel implements.

Michael Aram Vincent Candle
This interpretation expresses a less conventional view of the flower. Inspired by the more earnest and frenetic spirit of Vincent Van Gogh's legendary paintings, Michael Aram chose to embody the contorted, almost threatening beauty of the bloom as it transitions through each stage of its existence.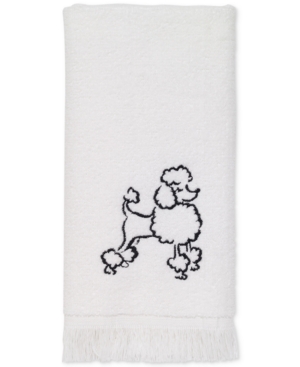 Avanti Chloe Bath Collection
Add some fun, colorful style to your bathroom essentials with the Chloe bath collection from Avanti.

ban. do Canvas Tote, Ticket Stripes
Trade in paper and plastic for ban. do's ultra-cute, eco-friendly canvas tote-detailed with a short-but-sweet grocery list.
Franz Collection Van Gogh Almond Flower Large Vase

Hand painted porcelain. USA

Franz Collection Van Gogh The Courtesan Large Vase
Hand painted porcelain. USA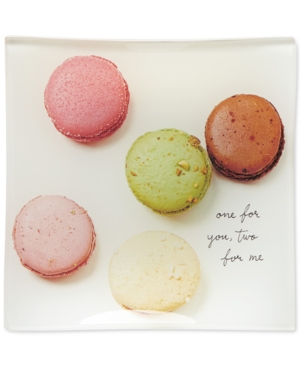 kate spade new york Snap Happy Square Tray, Macaroons
Life-like macaroons stand out on this Snap Happy glass tray by kate spade new york. Whether used for desserts or appetizers, this stylish tray is a sweet treat.
Gifts for Her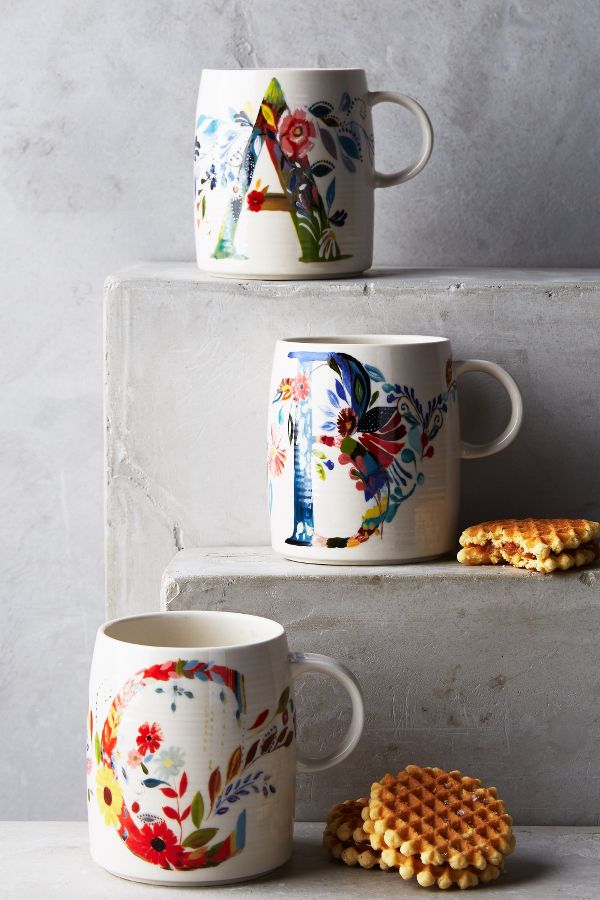 Petal Palette Monogram Mug
From the animals on her childhood farm to the wildlife on the forested trails around her Austin home, Starla Michelle Halfmann has loved the natural world her entire life. She conveys her passion with intense splashes of color and gilded details, bringing a painter's eye to your home decor. Stoneware. Dishwasher and microwave safe

See by Chloe Sun Nylon Duffel Bag, Navy/Multi
See by Chloe nylon duffel bag with logo sun patch. Striped web top handles. Zip-top closure; logo pull. Interior, one zip pocket.

slip Silk Eye Mask
Cotton grabs your hair and twists it at the root throughout the night, damaging hair and causing bed-head in the morning, whereas slipsilk is so gentle on your hair, it allows your hairstyle or blow-dry to last overnight. Unlike cotton, which draws moisture from your face, hair and scalp, slipsilk breathes and is a natural temperature regulator. Slipsilk is specially-commissioned and made to Slip's exacting standards, developed and refined over ten years to provide the ultimate combination of shine, thickness, softness and durability. Slip uses the highest grade (6A) long-fibre mulberry silk, with a thickness of 22 momme and enforces the strictest quality guidelines, including non-toxic dyes.

Longchamp Le Pliage Large Travel Tote Bag
Longchamp "Le Pliage" nylon tote bag with leather trim. Golden and nickel hardware. Rolled tote handles; 3.5" drop. Zip-top with logo medallion pull. Snap-button flap with embossed logo. Inside, one slip pocket; coated lining. Can be folded for ease of travel.

Lady Primrose Bathing Gel Decanter, 4 oz.
Sweet golden honey harmoniously blended with healing Royal Jelly creates a rich medley of natural moisturizers and cleansers. This luscious bathing gel, for showers or bubble baths, smells and feels divine and is beautifully presented in a glass decanter adorned with a gold bee.

Eberjey Three-Pack Anouk Lace Thongs
Set of three Eberjey "Anouk" lace thongs, presented in pretty gift packaging. Super-soft lace is sophisticated yet flirtatious, detailed with satin ribbon bow. Low rise sits straight across hips. Scalloped leg openings. Thong back designed to minimize panty lines.

Pink Monogrammed Duffel
Duffel made of cotton canvas. Polyester lining. Faux-suede trim; leather handles. Personalization is three initials in style and color shown.

Parker Thatch Amelia Large Cosmetic Bag
Cosmetic bag made of cotton canvas. Personalization is name

Parker Thatch Sweet Bow with Cherries Stationery, Set of 40
Handmade stationery. Heavyweight cotton paper. Personalization

Franz Collection Van Gogh Almond Flower Cup & Saucer with Spoon

Hand painted porcelain. USA

Lug Travel Blanket & Pillow Set
May be monogrammed

Franz Collection Van Gogh Sunflowers Large Vase

Hand painted porcelain. USA

Guerlain Hiver en Russie Candle
A return to the dream of the sparkling palaces and sumptuousness of Holy Russia. The scalding-hot scented tea of a samovar blends with the smell of smoldering wood. Precious ashes of frankincense enriched with myrrh illustrate the mystical splendor of churches with golden domes

Nest Fragrances Sparkling Cassis 3-Wick Scented Candle
Sparkling Cassis is a sophisticated combination of rich, luscious berries. Fig leaf adds a natural, earthy element. Pink grapefruit provides an effervescent sparkle, akin to a splash of champagne.

Baccarat Lucky Butterfly, Iridescent Diamante
Butterfly made of lead crystal. France