French Country Nursery with Toile Accents
French country baby nursery themes with toile accents. Country French baby furniture, baby bedding and all the accessories you will need to perfect the look for your French style nursery. Go to: Sophisticated Black and White Toile Nursery, French Country Baby Nursery, Puppy Playmate Nursery
| | | |
| --- | --- | --- |
| | | |
| Doodle Dog Woven Storage Bin | Frank the Frenchie Table Lamp | Doodle Dog Embroidered Crib Quilt |
| This versatile woven storage bin features two looping handles and is the perfect place to store everything from socks and stuffed animals to dirty laundry. Mix and match with other items from the Doodle Dog collection to create your dream nursery! | Bring Frank the Frenchie home to add a darling touch to your interior that will never cease to amuse both you and your guests. | The Doodle Dog Quilt features hand drawn dogs, stars, lightning bolts and fun phrases. Mix and match with other items from the Doodle Dog collection to create your dream nursery! |
| | |
| --- | --- |
| | |
| Ed Ellen Degeneres Augie and Friends Ultra Soft Plush Blanket | Ed Ellen Degeneres 20" L x 20" W Doodle Dog Embroidered Square Pillow |
| Add some warmth and fun to your chair, sofa or bedroom with the Ed Ellen Degeneres Augie and Friends Plush Blanket. This blanket features Ellen's favorite pup, Augie, and dogs friends in a soft palette of greys, blues and whites on a pastel grey ground. 100% polyester blanket is machine washable for easy care | Add a whimsical accent to your bedding with the doodle dog throw pillow from Ellen Degeneres. Featuring Ellen's signature style, a charcoal line drawing of a dog is embroidered on natural ground. Features softness and breathability for extreme comfort- plain weave for durability. |
| | | |
| --- | --- | --- |
| | | |
| Ed Ellen Degeneres 20" L x 20" W Augie Embroidered Square Pillow | Doodle Dog Stripe Crib Skirt | Art Knacky Pet Table Lamp |
| Features softness and breathability for extreme comfort- plain weave for durability. | This classic crib skirt features multicolored stripes and soft cotton fabric. Mix and match with other items from the Doodle Dog collection to create your dream nursery! | Infuse your space with charm through a whimsical, animal-shaped lamp. Featuring designs by Art Knacky in collaboration with Anthropologie of a grouchy cat or a nonchalant Boston Terrier, these table lamps are sure to incite excitement among pet lovers and kitsch collectors alike. |
| | | |
| --- | --- | --- |
| | | |
| Doodle Dog Hooded Baby Blanket | Dasher Dog Table Lamp | Dog's Life Wallpaper |
| Add playful style to your nursery with the Ellen DeGeneres Doodle Dog baby bedding and décor collection! Featuring fun doodles and scribbles with playful puppies and positive sayings in shades of royal blue, red, ivory, yellow, green and turquoise. These mix and match separates are perfect for creating a nursery that's just your style! | Featuring a dashing Dachshund base, this table lamp satisfies both a love of dogs and statement lighting. | SureStrip backing allows for paste-free application and easy removal |
| | | |
| --- | --- | --- |
| | | |
| Fela Tasseled Chandelier | Every Day Make A New Mistake Wall Art | Lara Kids Quilt |
| Bohemian interior maven Justina Blakeney imbues her signature "jungalow" style into everything she creates. A play on her inspirations - jungles and bungalows - her designs are eclectic, colorful and always imaginative, and each makes a welcoming statement in your home. | Raised in France and currently residing in Israel, artist Karen Lev creates work exhibiting her great passion for typography, fusing literal meaning with visual expression. | This charming quilted collection turns your little one's bed into a cozy sanctuary. |
Belle Butterfly 4-Piece Crib Bedding Set
Ps by The Peanutshell Butterfly 3-Piece Crib Bedding Set
Pressed Flower Butterfly Wall Art
Butterfly Shaped Velvet Throw Pillow
This darling Belle Butterfly 4-piece Crib Bedding Set will have hearts aflutter with the softest fabric around. This collection features rich, touchably soft microfiber throughout which is velvety smooth against baby's skin. The quilt features a center panel of butterflies in flight, flying with bright pinks and lilacs and touches of embroidery.
After contributing two years of research toward a Masters in Physiology, Ayla Graham returned home to Calgary, Canada to find a job in her field. However, her career trajectory took an unexpected turn when a skill she learned from her grandmother - creating art using pressed flowers - became her true passion. Putting a modern twist on this traditional technique, Graham's prints represent her connection to her hometown, family, and nature.
Flit and flutter through your space with this velvet, butterfly-shaped throw pillow. Topped with a mixed print design and stitched detailing.
| | | |
| --- | --- | --- |
| | | |
| Nojo Watercolor Blossoms 8-Piece Crib Bedding Set | Ed Ellen DeGeneres Painterly Floral Comforter | NoJo Countryside Floral Musical Mobile |
| The NoJo Dreamer Watercolor Blossoms 8-Piece crib bedding set features beautiful colors combined with a gorgeous floral design. | Keep your little one's nursery cozy with this sweet floral comforter featuring a soft, floral fabric in shades of pink and ivory with an appliqué heart that makes the perfect finishing touch. Coordinates with a full line or Painterly Floral bedding and accessories. | Complete the look of your little one's room with this adorable musical mobile from NoJo. Soothes your little one to sleep with the sweet melody of Brahms's Lullaby. Gorgeous and perfect for a baby girl's nursery. |
| | | |
| --- | --- | --- |
| | | |
| Swivel Rocker Chair | Ellen DeGeneres Dot Print Crib Sheet | Ombré Butterflies Wall Art |
| Featuring both swivel and rocking capabilities, this chic, timeless chair is a functional choice for an open-concept living space. | The sweet and simple gender-neutral design of dots crib sheet coordinates with so many different looks for your nursery! Super soft, 100% cotton percale fabric means your little one will sleep in style on this sophisticated pattern. | Feminine and modern with just a touch of whimsy, this swirl of pale blue butterflies is a mesmerizing accent for any wall. |
| | | |
| --- | --- | --- |
| | | |
| NoJo Countryside Floral 4-Piece Crib Bedding Set | Dwell Arden Butterfly Crib Sheet | Lepidoptera Wallpaper |
| The NoJo Countryside Floral 4-piece bedding set includes a comforter, crib sheet, crib skirt and diaper stacker. Your little one will sleep sweetly surrounded by this sophisticated, feminine design of pretty countryside flowers. | Dream of beautiful butterflies on the DwellStudio Arden Fitted Crib Sheet. This sweet, retro style sheet features whimsical, vintage butterflies in shades of violet and pink on a soft grey background. | Paper. UK |
| | | |
| --- | --- | --- |
| | | |
| Sparrow & Wren Poppy Kids Tub Chair | Crane Toile Wallpaper | Renata Basket |
| Make a big statement with this petite version of the classic barrel chair from Sparrow & Wren featuring an alphabet and animal print with endless charm | Wrap your walls in a graceful depiction of swooping cranes in front of Japanese-inspired architecture - it's a peaceful backdrop for a contemporary home. | Featuring a geometric motif and a row of textured tassels, this basket perfectly combines functional storage and a lively sense of style. |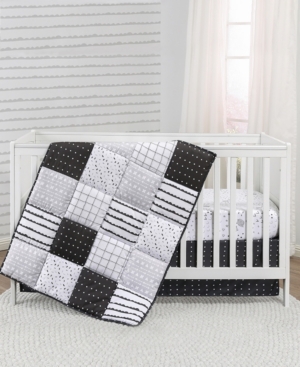 The Peanutshell Psp Preston 3-Piece Crib Bedding Set
A designs make for a soft but modern nursery in the Preston 3-piece crib collection. The printed patchwork quilt brings together a lovely tossed print of geometrics, flowers and elephants with a fun scallop print, a lovely plaid, polka dots and a novel stripe combining arrows and geometric motifs.
Go to:
Add French-Luxury to your favorites