Scented Candles and Bath Luxuries
Your personal escape. A luxurious bath to calm and sooth. Light a candle scented to fit any mood and drift away. French perfume history goes back centuries. France continues to create some of the most memorable fragrances in the world. Scented candles can dramatically alter your mood. Create your own home spa and escape. You deserve it. Scroll down to explore the possibilities or go directly to: Cire Trudon French Candles, Scented Candles, Perfume Bottles, Perfume History
| | |
| --- | --- |
| | |
| Baccarat Rouge 540 Candle | Townhouse Four-Wick Ceramic Candle |
| Notes of saffron, white oak moss, grey amber and clary sage combine to aromatic effect in this beautifully decorated candle from Baccarat. France | A darling centerpiece for a coffee table or console, this four-wick candle is poured into townhouse-shaped vessel that's decorated for the holidays. Wassail & Spice: Inspired by the Medieval Christmastide beverage, Valencia orange peel, Sicilian bergamot, and frosty greens blend into a base of cinnamon ceylon, black peppercorn, and cedarwood. (SPICE) |
| | | |
| --- | --- | --- |
| | | |
| Kaneru Metallic Candle | Pillar Metal Candle With Matches | Beau Candle |
| Clary Sage & Nectar: An herbaceous, earthy blend of clary sage, jasmine, and sandalwood, topped with granny smith apple and citrus lime. (FRESH). Driftwood & Vetiver: A smoky, mysterious blend of mesquite wood, soft suede spices, weathered driftwood, and balsam, accented by bright notes of vetiver and cashmere amber. (WOODSY). Tonka & Tobacco Leaf: The pleasantly rich, warm vanilla scent of tonka beans melds with the hard spice of tobacco leaves. (SPICE). Mediterranean Amber & Citron: A floral, feminine base of jasmine, gardenia, amber, and musk accented by sparkling notes of lemon and lime. (FRESH) | Fill your space with dynamic scents and a soft glow with this special candle that has it all. Etched metal vessel features celestial motifs all over, topped with a lidded construction that doubles as a tin for 80 matches and features a built-in striker at base. | Poured in a glittering, centerpiece-worthy vessel, this candle boasts a nostalgic scent that reflects the season. |
| | | |
| --- | --- | --- |
| | | |
| Avalon Lustered Glass Candle | Honeycomb Textured Glass Candle | Signature Craquelle Glass Candle |
| Featuring a range of autumnal scents we love, this candle collection is the perfect seasonal gift for a housewarming or hard-to-please hostess. | Set in a glittering, textured glass vessel with a floral-meets-honeycomb design, this candle makes a beautiful scented accent for a coffee table, console, or side table. Tonka & Tobacco Leaf: The pleasantly rich, warm vanilla scent of tonka beans melds with the hard spice of tobacco leaves. (SPICE) | Pairing an autumnal scent with a beautiful glass vessel, this candle makes a thoughtful seasonal gift for friends and family. |
| | | |
| --- | --- | --- |
| | | |
| Glass Cloche Candle | Alasdair Marble Candle | Floral Press Candle |
| Housed in a lidded glass cloche with a flared pedestal base, this single wick candle adds an elevated, vintage-inspired glow to your space. | Poured into a beautiful, marble-crafted vessel, this candle lends a sophisticated accent to a coffee table or console while imparting an enticing aroma throughout your home. | Featuring a variety of pressed botanical lids, these sweetly scented candles are a lovely hostess gift or housewarming present for the season. |
| | | |
| --- | --- | --- |
| | | |
| Apothecary Glass Jar Candle | Botanica Glass Candle | Garden Patch Ceramic Candle |
| Hand-poured into a corked glass jar, this candle features an apothecary blend that imparts a soothing scent throughout your home. Balance: Creamy tonka is wrapped with white amber, turmeric, orris root, cardamom, and gently spiced leather. (SPICE). Renew: Fresh lily, vibrant greens, and crushed eucalyptus meld into a spearmint and frosted rosemary base. (FRESH) | Hand-poured into a tinted glass vessel, this soy candle features a botanical-inspired aroma that evokes tropical locales far and wide. | Hand-poured into a ceramic vessel, this beeswax candle invites a calming, garden-fresh scent into your home. |
| | | |
| --- | --- | --- |
| | | |
| Cancelled Plans Relatable 10 oz Candle | Crimson And Clover Studio Candle | Elements Jar Candle |
| The perfect addition to skipping a night out, this candle by Cancelled Plans is so relatable. Featuring a blend of coconut and apricot wax with a cotton wick for a smooth, clean burn, housed in a glass vessel with colorful labels that add a chic, modern look to your low key night of snacking, movie marathons and crafting. | Fruity-fresh scents pair with Crimson And Clover Studio's signature wit with these quippy candles we love. Featuring a brash, graphic label topping the lidded glass jar. | Honoring the four ancient elements - earth, water, fire, and air - each candle features a uniquely blended scent that stands for one of life's cornerstones. |
| | | |
| --- | --- | --- |
| | | |
| Day's Last Light Reed Diffuser | Day's Last Light Glass Candle | Day's Last Light Room Spray |
| This diffuser establishes a calming ambiance for your home that helps you unwind after a long day. Whether placed in your living room, bathroom, or bedroom, its comforting aroma purifies both your space and your mind as you embark on your evening ritual. | This beautiful glass candle establishes a calming ambiance for your home and helps you unwind after a long day. Whether placed in your living room, bathroom, or bedroom, its comforting aroma purifies both your space and your mind as you embark on your evening ritual. | Unwind after a long day with this soothing room spray that creates a calming ambiance for your home. Whether used in a living room, bedroom, or bathroom, its comforting aroma purifies both your space and your mind as you embark on your evening ritual. |
| | |
| --- | --- |
| | |
| Loved and Found Petite Brew Curated Gift Box | Loved and Found Engaged Curated Gift Box |
| Send congratulations, thank yous or holiday wishes with this box filled with snacks to be enjoyed at any time of day. Displayed in a wood box, elegant pour over coffee paired with gourmet nuts and chocolates, will surely delight a group or individual. | Say congratulations to the Bride-to-Be with this collection of blush and gold products and treats. Complete with an on-the-go ring cleaner, pair of notebooks for planning, and champagne treats, this box makes the perfect engagement or bridal shower gift. Ready to gift and packaged to perfection in a ribbon-tied ivory box with petite dried flower bundle. |
| | | |
| --- | --- | --- |
| | | |
| Loved and Found Bundle of Joy Curated Gift Box | Loved and Found Sunday Morning Curated Gift Box | Loved and Found Mama Curated Gift Box |
| Celebrate their Bundle of Joy with this assortment of sweet items curated to warmly welcome their new addition. This gift set includes a printed lamb swaddle, white leather moccasins, wood rattle and Mama's Gift tea. Designed for a baby girl or boy, this neutral collection of useful keepsakes will be treasured for years to come. Beautifully packaged in a ribbon-tied wood box with a hand-painted white lid and finished with a dried flower bundle. | All the ingredients for a cozy Sunday Morning at home are included in this gift set perfect for sending warm wishes to a family, couple, or individual. Gourmet breakfast treats, complimented with a fragrant candle and cotton tea towel, are packed by hand in a stained wood box tied with ribbon and a seasonal floral bundle. | Designed to spoil the expectant or new mom, this collection of self-care items reminds her to take that rare moment for herself. Pampering items, complemented with a handmade toy for baby, are beautifully packed in a wood box finished with twine and a small bouquet of dried flowers. |
| | | |
| --- | --- | --- |
| | | |
| 3D LED Gala Essential Oil Diffuser | Gold Artist Print Tin Candle | SERENE HOUSE Ranger Essential Oil Diffuser |
| This crystal ball might not show you your future, but will help you feel more chill about it with the scent of essential oils and holographic LED light affects! Plug-in ultrasonic diffuser humidifies and adds your scent of choice to the air while boasting LED mood lighting with over 14 colors to choose from, timed diffusion, diffusion variation + 3D effects. Offers up to 12 hours of continuous diffusion without having to re-fill the tank! | Scented candles come in lidded tins featuring original illustrations from our in-house artists! Soy wax candles are poured in the USA and topped with a cotton wick for a clean, easy burn. Burn candle within sight. Do not burn for more than 3 hours at one time. Stop use when 0.25" of wax remains. Metal tin will conduct heat while candle is in use. | Maintain super-serene vibes wherever you go with this compact essential oil diffuser from SERENE HOUSE. Compact, durable construction can slip into any bag and powers via USB connection. Add water and your favorite essential oils for hydration and soothing vibes in an instant. Equipped with auto shut-off function. |
| | | |
| --- | --- | --- |
| | | |
| Chloe Mini Glass 2.4 oz Candle | Chloe Glass 7.4 oz Candle | Chloe Glass 3-Wick Candle |
| Housed in an elegant, textured scalloped glass vessel, this lidded candle lends elevated appeal to any space. Filled with a wax blend scented with complex, entrancing notes that stun. | Elegant glass candle sure to become a favorite treasure with complex, entrancing scent notes and a geo-etched vessel that stuns. Lidded design with contrasting tassel looks as striking on your shelf as it does lit with a glowing flame. | Elegant tri-wick glass candle sure to become a favorite treasure with complex, entrancing scent notes and a geo-etched vessel that stuns. Lidded design with contrasting tassel looks as striking on your shelf as it does aglow. |
| | | |
| --- | --- | --- |
| | | |
| Chloe Glass Tall 21 oz Candle | Miranda Reed Diffuser | Candlefish Large Candle |
| Elegant glass candle sure to become a favorite treasure with complex, entrancing scent notes and a geo-etched vessel that stuns. Lidded design with contrasting tassel looks as striking on your shelf as it does all aglow. | Reed diffuser featuring an elegant glass vessel for filling with the included fragrance oil, reeds and dried flowers to send fresh scents through your space. After 30 days, flip reeds. The true scent of the oils will come through after a few hours of diffusing. | Elegant glass candle by Candlefish with enlivening scents housed in a sleek glass jar adorned with a refined wraparound label. |
| | | |
| --- | --- | --- |
| | | |
| Clare V. for Anthropologie Maisonette Glass Candle | Seafoam Candle | Gourmand Soy Wax Candle |
| Designed by Clare V. in collaboration with Anthropologie, this glass candle offer scents inspired by dreamy landscapes: The glistening sea, a soothing forest, or the romantic countryside. | Featuring an ombré glass vessel inspired by the spray of the ocean, this candle fills your home with a dynamic, nature-inspired aroma. | Fill your space with delicious scent so decadent you'll want a taste. The Gourmand Candle features a soy wax blend of olfactory notes such as chai, sea salt, almond, vanilla and coconut. |
| | | |
| --- | --- | --- |
| | | |
| Apotheke White Vetiver Candle | Dried Floral Reed Diffuser | Agraria Monique Lhuillier Citrus Lily 7.4 oz. Candle |
| Fragrance notes: cashmere, eucalyptus, and lilac are entwined with earthy vetiver, sandalwood, amber, and cedarwood to form a sultry fragrance | Fill your space with fresh scents, no flame needed thanks to this reed diffuser, featuring a dried floral bouquet dipped into fragrance oil and housed in a vintage-inspired glass vessel. | California lemons and Italian bergamot pair with a lush bouquet of lilies, freesia, ylang-ylang and jasmine in this aromatic candle. |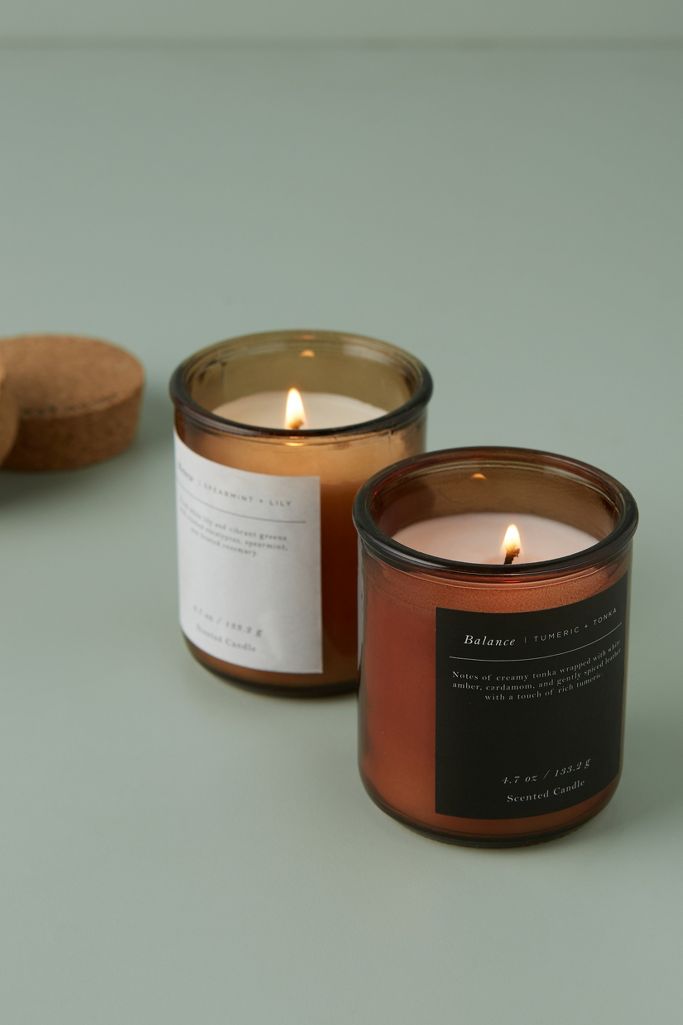 Apothecary Glass Jar Candle
Hand-poured into a corked glass jar, this candle features an apothecary blend that imparts a soothing scent throughout your home.
Vegetal wax. 60 hour burn time. Made in France
| | |
| --- | --- |
| | |
| Cire Trudon Decorative Candle Bust, Alexandre | Cire Trudon La Promeneuse |
| Inspired by a sculpture of young Alexandre Brongniart by Jean-Antoine Houdon (1741-1828), considered the Sculptor of the Enlightenment. Houdon fixed in stone the portraits of important figures of the time, including the Tsarina Catherine the Great of Russia, Diderot, Voltaire and Rousseau. The subject's father, architect Alexandre-Theodore Brongniart (1739-1813), is famous for designing the Stock Exchange building in Paris and transforming the Pere Lachaise Cemetery. Made in France. Wax | Includes: one La Promeneuse, four scented cameos (Abd El Kader, Ernesto, Odalisque and Solis Rex) and four night-lights. Both a decorative object and fragrance diffuser, La Promeneuse is designed to diffuse Cire Trudon scented wax cameos. Place a cameo in the ceramic dish atop the La Promeneuse, then light the night-light beneath it. The heated cameo will melt and spread its fragrance rapidly into the air. Easily change fragrances each time you select a new cameo. |
Perfume history goes back to the Cleopatra, Rome, Greece and the Far East. Francis I brought back Italian customs of wearing scent (1525) and Catherine de Medici brought her own perfumer to France. In the time of Louis XIV (1638-1715), France entered the competition and vied for control the trade with the East for spices and aromatics. They planted aromatics and under royal protection the French perfume industry was born and nurtured. His personal perfumer made a special scent for him each day. In Grasse, perfume existed since the Middle Ages to cover the odor of leather gloves, and was extended to soap made from olive oil produced there. Soon even wigs were powdered with fragrance. The 18th century popularized potpourri in Sèvres porcelain; eau de cologne (originally scented spirits brought back from Cologne during the Seven Years War); blending for more complex fragrances; and crystal perfume bottles. The industry declined during the French Revolution, but was enhanced by Napoleon both through organic chemistry and his own use of several bottles a day!
Perfume Basics: Fragrance consists of essential oils and alcohol. Essential oils carry the true scent and are costly. There are no international "rules" on definitions and required percentage of essential oil, but the concentration is progressively less from parfum (French)/perfume (highest), eau de parfum, eau de toilette, cologne (least), and the prices will reflect this. Body products ("fragrance layering") are good for your skin and make your fragrance last longer. Usually, body creme will be "perfumed" while other products are "fragranced."
Go to: