French Style Sleepwear and Loungewear
French style sleepwear. For someone special, just for yourself. Go to: Dressy Sleepwear, Eberjey, Ro's Garden, Sol Angeles, Show Me Your Mumu
| | | |
| --- | --- | --- |
| | | |
| Le Petit Trou Lou Pajama Set | Cleo Pajama Set | Vista Lounge Set |
| Topped off with sweet bows on the shoulder straps, this cotton pajama set is our favorite lounge look for the bride. | Lacy trim is a delicate finishing touch for this sweet cami and shorts set. Pair with a pretty robe for the perfect getting-ready look, or tuck it into your honeymoon suitcase. | Ruffle details and floral prints give this soft lounge set a romantic vibe, perfect to pack away for your honeymoon (and any night after!). |
| | |
| --- | --- |
| | |
| Carmen Sleep Set | Lizzy Jumpsuit |
| Equal parts cozy and chic, this sleep set supports a restorative night of slumber so you can confidently take on a new day. | Easygoing and chic, this jumpsuit is an instant wardrobe classic. |
| | | |
| --- | --- | --- |
| | | |
| Eberjey Gisele Short PJ Set, Ivory/Navy | Eberjey Gisele Short PJ Set, Navy/Ivory | Eberjey Gisele Short PJ Set, Water Blue/White |
| The best-selling Gisele pajama short PJ set is crafted from a super-soft modal jersey, which feels cool to the touch and slips over skin effortlessly. Tailored to fit and hugs your body and falls in all the right places. | The best-selling Gisele pajama short PJ set is crafted from a super-soft modal jersey, which feels cool to the touch and slips over skin effortlessly. Tailored to fit and hugs your body and falls in all the right places. | The best-selling Gisele pajama short PJ set is crafted from a super-soft modal jersey, which feels cool to the touch and slips over skin effortlessly. Tailored to fit and hugs your body and falls in all the right places. |
| | | |
| --- | --- | --- |
| | | |
| Eberjey Gisele Short PJ Set, Heather Grey/Sorbet Pink | Eberjey Gisele Short Sleeve and Pant PJ Set, Navy/Ivory | Eberjey Gisele Short Sleeve and Pant PJ Set, Ivory/Navy |
| The best-selling Gisele pajama short PJ set is crafted from a super-soft modal jersey, which feels cool to the touch and slips over skin effortlessly. Tailored to fit and hugs your body and falls in all the right places. | The iconic Eberjey Gisele pajama set boasts a supple blend of super-soft modal jersey, for a cool and comforting feel that lasts all night. This high-quality short sleeve shirt and airy pant set remains soft and smooth even after endless washes and wears. | The iconic Eberjey Gisele pajama set boasts a supple blend of super-soft modal jersey, for a cool and comforting feel that lasts all night. This high-quality short sleeve shirt and airy pant set remains soft and smooth even after endless washes and wears. |
| | | |
| --- | --- | --- |
| | | |
| Eberjey Gisele Long PJ Set, Dusk/Ivory | Eberjey Gisele Long PJ Set, Navy/Ivory | Eberjey Gisele Long PJ Set, Ivory/Navy |
| Easily a classic, the Gisele long pajama set is made from a super smooth blend of modal jersey and features a long sleeve and pant style to keep you cozy all night long. | Easily a classic, the Gisele long pajama set is made from a super smooth blend of modal jersey and features a long sleeve and pant style to keep you cozy all night long. | Easily a classic, the Gisele long pajama set is made from a super smooth blend of modal jersey and features a long sleeve and pant style to keep you cozy all night long. |
| | | |
| --- | --- | --- |
| | | |
| Eberjey Gisele Long PJ Set, Heather Grey/Sorbet Pink | Eberjey Gisele Long Sleeve Short Pajama Set | Eberjey Gisele Tuxedo Slim Long Pj Set |
| Easily a classic, the Gisele long pajama set is made from a super smooth blend of modal jersey and features a long sleeve and pant style to keep you cozy all night long. | Top: notch collar, button front closure, long sleeves, front patch pocket, contrast piping. Shorts: elasticized waistband, contrast piping | Top: notch collar, button front closure, long sleeves, contrast piping. Pants: elasticized waistband, slim silhouette, pull-on style |
Informed by the effortlessness of sun-soaked, Golden State style, Sol Angeles takes a low-maintenance approach to off-duty dressing. Crafted in a downtown Los Angeles workshop, each vintage-inspired piece features beachy florals, sun-washed solids or the brand's signature triple wave emblem, invoking the breezy Pacific coast.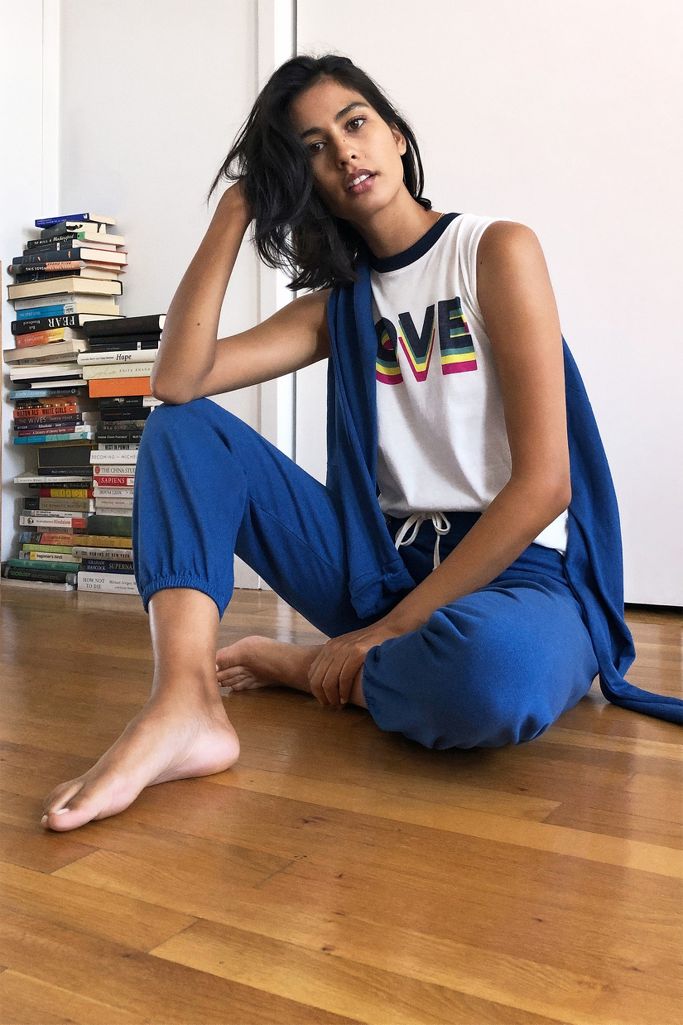 Love Graphic Tank
Bring a loving touch to your ensemble with this charming graphic tank.
During a trip to Miami in 2009, best friends Cammy Herbert and Cologne Schmidt longed for breathable vacation wear that would transition from day to night with ease. Upon returning to their New York apartment, the duo designed an effortless silhouette based on the muumuu - a breezy, vibrantly hued dress of Hawaiian origin - and Show Me Your Mumu was born. Today, the LA-based label has expanded its collection to include dresses, jumpsuits, swimwear, and accessories - all imbued with the same carefree, fun-loving spirit that inspired their very first design.
Go to:
Add French-Luxury to your favorites