Selecting the Perfect Wine Glasses
Sparkling full lead crystal wine glasses from France. Fine crystal defines good taste and makes wine taste better. The first wine glass, according to myth, was made by Aphrodite cutting a bubble of sea foam in half as she was emerging from the sea. The art of French glassblowing nearly replicates that clarity and delicacy. Who should know better crystal for serving wine than the French? Go to: Color, Clarity, Feel, Size and Shape, Carefree Catering Wine Glasses, Care, Stemless Wine Glasses
Selecting Wine Glasses, stemware and barware
Historically, colored wine glasses hid cloudy, dull wines which contained sediment, so by tradition, the hock glass is often a jewel tone. Vintners have learned to "fine" their wines. The sight of a deep ruby Pinot Noir, a golden Chardonnay or bubbles rising in Champagne, can make this an important part of the experience. Held in the light, there should be no blue or yellow tinge to clear crystal.
| | | |
| --- | --- | --- |
| | | |
| Gilded Medallion Flute and Wine Glass | Mattoni Flute | Lucca Wine Glasses |
| This drinkware's golden rim was crafted using pantograph etching filled with 24k gold | Lustered glass accented with a gold band gives this cocktail collection its luxe appeal. Crystalline soda lime glass. Hand-painted luster detail | Etched crystalline glass. Hand wash. Czech Republic |
| | | |
| --- | --- | --- |
| | | |
| Claudia Wine Glasses | LSA Deco Assorted Wine Goblets, Set of 8 | French Wine Glasses |
| Crystalline glass. Hand wash. Czech Republic | Assorted sets embellished with an eclectic mix of decors, a modern twist on the linear motifs and glamorous metallic finishes of Art Deco. Complex traditional techniques transform high quality raw materials into distinctive products for entertaining, dining and decorating. | A vintage look that feels modern again. Perfectly weighted, sturdy and charmingly adorned with a turned stem, the classic French wine glass has been around for decades. Our updated version features a streamlined yet still curvy stem and a more generous bowl for serving wine as well as water, soda or cocktails. |
| | | |
| --- | --- | --- |
| | | |
| Camille Wine Glasses | Enoteca Wine Glasses | Ana Wine Glasses |
| The Camille glasses rise to the occasion on elongated slender stems with bubble bowls that are perfect for cradling in hand to allow wines to open up and breathe. | For ideal glass for wine enthusiasts and novices alike. This beautifully crafted, crystal-clear glass is handmade of break-, chip- and scratch-resistant Tritan ®. | Cut-glass decorates the bottom half of this gently rounded wine glass, adding extra sparkle to your favorite red or white. Each precision-tooled glass offers exceptional clarity to this beautiful glass for special or everyday occasions. |
| | | |
| --- | --- | --- |
| | | |
| Baccarat Degustation Glassware, Set of 4 | Gilded Rim Wine Glasses | Lenox Stemware, Tuscany Classics Wine Glasses |
| Bring classic style to your wine tasting or dinner with this striking set, each designed to enhance the subtle flavors and aromas of a particular drink: red wine, white wine, champagne and spirits. France | 24k gold, glass. Hand wash. Handmade in Czech Republic | Classically shaped stemware never goes out of style. The Tuscany Classics collection gives any formal table setting a timeless look. From chardonnay glasses to innovative barware, each piece is designed to accentuate the rich color and sweet aroma of your favorite wines. Whether given as a gift or purchased for the home, the collection offers an array of stunning — and stunningly affordable — options for fine dining |
Fine crystal should be absolutely clear, no bubbles. French brilliantly clear crystal wine glasses
| | |
| --- | --- |
| | |
| Baccarat Vega Red Wine Glass | Lalique100 Points Universal Glass |
| Sleek and modern, this red wine glass is characterized by a very structured stem calling to mind a Brancusi totem. Horizontal cuts in the shape of oversized bevels form the chunky stem and exude chic luxury. Made of full-lead crystal. France | Handcrafted glass. Approximately 3.25"Dia. x 8.75"T; holds 12.85 ounces. A collaboration between Lalique and James Suckling. Lead crystal. Hand wash. Made in France. |
| | | |
| --- | --- | --- |
| | | |
| Baccarat "Vega" Stemware | Baccarat Degustation Set | Baccarat "Mille Nuits" Stemware |
| Designed for todays contemporary lifestyle and expression of personal entertaining styles. Simple, easy to integrate and multi-functional, each piece is an exemplary marriage of beauty and practicality that is sure to delight with each use | Developed in collaboration with celebrated wine expert Bruno Quenieaux | Full-leaded crystal, hand crafted tall wine glass |
Stemware should feel balanced in your hand (not top heavy) and stand evenly. The rim should be thin, even and smooth to the touch. A gentle tap produces a bell tone indicating surface strength.
| | | |
| --- | --- | --- |
| | | |
| Vineyard Red Wine Glasses | Chateau Baccarat Drinkware | Vineyard White Wine Glasses |
| Great wines deserve the right glass to bring out their distinct aromas and tastes. Our Vineyard red wine glasses offer a suite of glasses, each crafted with specially shaped bowls to enhance the enjoyment of red wines. Each elegantly shaped glass is handcrafted by highly skilled European glassmakers. | This revolutionary Baccarat Crystal tumbler from the new Château Collection reveals the complexity, richness and subtlety of cocktails and wine | Great wines deserve the right glass to bring out their distinct aromas and tastes. Our Vineyard wine white wine glasses offer a suite of stems, each crafted with specially shaped bowls to enhance the enjoyment of white wines such as Chardonnay, Riesling, Sauvignon blanc, Pinot grigio, sparkling Champagne and others. Each elegantly shaped glass is handcrafted by highly skilled European glassmakers. |
In a dishwasher, be sure you know the type of detergent and temperature recommended. If washing by hand, gently dip the glass into warm, soapy water bowl down. Dry carefully. Heat expands and makes them more fragile. Store upright. With care, they will last for generations.
Standard setting includes goblets, 6 ounce white/rosé wines, 8 ounce red wines and champagne flutes, although you will serve only 2-3 oz. of white or 3-5 oz. of red per glass. A taller bowl allows you to enjoy the layers of aroma as the wine evaporates, straighter sides for whites, balloon shape for reds. The mouth should be slightly narrower to gather aroma, but not touch the nose when drinking. Modern table patterns often simplify to the basic shapes shown.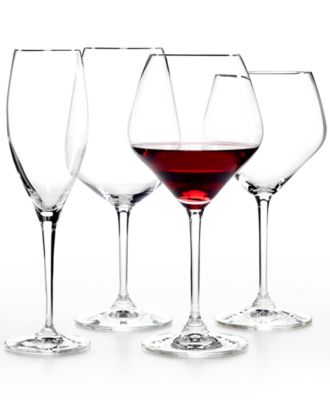 Riedel Set of 2 Heart to Heart Wine Glasses
Crafted with the Riedel touch, these Riesling glasses are perfectly shaped to give your wine a larger surface area, enhancing its scent and taste even as you enjoy each sip. With sleek tapered stems in machine blown Bavarian glass, they add a classic touch to any table setting
| | | |
| --- | --- | --- |
| | | |
| Nambe Vie Pinot Noir Glass, Set of 2 | Nambe Vie Chardonnay Glass, Set of 2 | Nambe Vie Cabernet Glass, Set of 2 |
| Bring out the strong, complex flavors of your of your favorite pinot noir. When filled, the wine dips slightly into the stem for visual effect. Dishwasher safe. Made in Germany | Bring out the strong, complex flavors of your of your favorite chardonnay. When filled, the wine dips slightly into the stem for visual effect. Dishwasher safe. Made in Germany | Bring out the strong, complex flavors of your of your favorite pinot noir. When filled, the wine dips slightly into the stem for visual effect. Dishwasher safe. Made in Germany |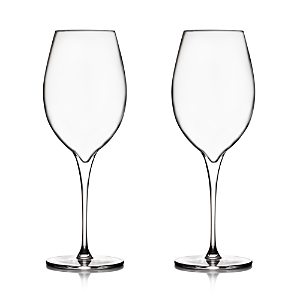 Nambe Vie Pinot Grigio Glass, Set of 2
Bring out the strong, complex flavors of your of your favorite pinot grigio. When filled, the wine dips slightly into the stem for visual effect. Dishwasher safe. Made in Germany
| | | |
| --- | --- | --- |
| | | |
| Set of 8 Boxed 12 oz. Wine Glasses | Set of 8 Viv White Wine Glasses | Set of 8 Viv Red Wine Glasses |
| It's never too soon to stock up on the dinner and cocktail party basics you'll use throughout the year for planned and impromptu entertaining. A great gift for first homes. Illustrated box is convenient for storage | Everyday stemware, beautifully crafted from top to bottom. Generous bowls are finished with smooth fire-polished rims and pulled stems. Exquisite clarity at an exceptional price. | Everyday stemware, beautifully crafted from top to bottom. Generous bowls are finished with smooth fire-polished rims and pulled stems. Exquisite clarity at an exceptional price |
| | | |
| --- | --- | --- |
| | | |
| Set of 8 Viv Big Red Wine Glasses | Set of 8 Nattie White Wine Glasses | Set of 8 Nattie Red Wine Glasses |
| Everyday stemware, beautifully crafted from top to bottom. Generous bowls are finished with smooth fire-polished rims and pulled stems. Exquisite clarity at an exceptional price. | Nattie's tulip-shaped bowls square up just a bit to put a modern angle on classic glassware. Machine-made to look handcrafted, these glasses are a great value and available in a range of shapes to bring out the best of red, whites and sparkling wines. | Nattie's tulip-shaped bowls square up just a bit to put a modern angle on classic glassware. Machine-made to look handcrafted, these glasses are a great value and available in a range of shapes to bring out the best of red, whites and sparkling wines. |
| | | |
| --- | --- | --- |
| | | |
| Villeroy & Boch Maxima Wine Glass, Set of 24 | Villeroy & Boch Ovid Stemware, Set of 12 | La Rochère Glassware, Fleur De Lys Collection |
| Includes 6 of each: 5 oz. champagne glass, 22 oz. Bordeaux glass, 26.75 oz. burgundy glass, 12.5 oz. white wine glass. Lead free crystal. Dishwasher safe | Classic silhouettes offer a timeless vessel no matter what the vintage in this stemware set. Set incudes four of each: 20 oz. red wine glass; 12.75 oz. white wine glass; 8.5 oz. champagne flute. Lead free crystal. Dishwasher safe. Made in Germany | An ode to France, the Fleur de Lys collection bears the country's most enduring symbol. Exceptionally clear and heavy glasses are produced in turn-of-the-century molds with traditional seams by Europe's oldest glass factory, la Rochere. |
Go to:
Add French-Luxury to your favorites